Do you carry medicines with you when travelling or just whenever you leave the house? I do. I just carry a few for hyperacidity, headaches and LBM, and I also include my vitamins. Whenever I'm travelling locally, I also bring pretty much the same medicines but it depends on how many number of days I'll be away. For international trips, I also make sure to add some pain relievers (for pains due to too much walking) and also Bengay. I remember the last time we were in Singapore and my Aunt needed to buy pain relievers, turns out that it's not available there so she was forced to settle with another brand which she's not familiar with.
This is why it's very important to bring a medicine kit when travelling, include that on your things-to-bring when packing. To make life easier, Meyerf, a Filipino pharma company, introduced Meyerf Travel Pack. It's a small medicine kit that houses all the 6 essential medicines like paracetamol, ascorbic acid, loperamide, mefenamic acid and carbocisteine. Fortunately, Meyerf Travel Pack takes the guesswork out of bringing the essential medicines when travelling.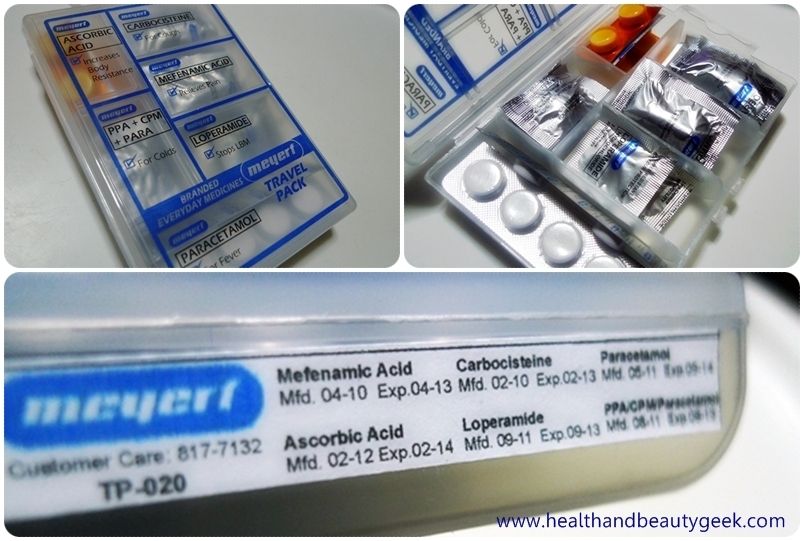 Meyerf Travel Pack comes in a compact lightweight container with the inside having separate compartments for each medicine. The container is clearly marked as to the use of each drug. Ascorbic Acid to increase body resistance, Carbocisteine for coughs, Mefenamic Acid to relieve pain, etc. You just have to refer to the container. The label also comes with recommended dosage and when to take it. At the bottom of the container, you can see the expiry dates of the medicines. It's very helpful! And once you have used up all the medicines, you can reuse the container and just buy a new set (Meyerf medicines too, please!).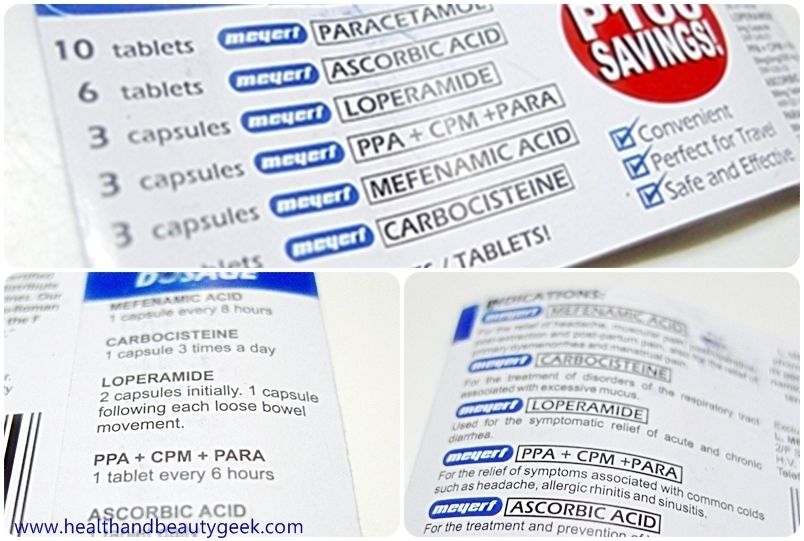 What makes me a happy camper is because Meyerf Travel Pack is only Php 99.75! Yes, you'll have an enjoyable trip with a peace of mind just by bringing a nearly 100-peso-medicine kit. If you buy each medicine separately, it will cost you Php 200, you can save 50% if you buy the travel pack.
So whether you're a frequent traveller, a parent, a student, or someone who just wants to be prepared at all times, bring a Meyerf Travel Pack with you.
Meyerf Travel Packs are available at Mini Stop, Emmaflor, Puregold, Landmark, Ever Supermarket, Walter Mart, CVC, DocR Pharmacy, Emiline's Pharmacy, Citylane, United Pharmacy, Botika Express, Budgetlane and SuperPalengke.
*

Product provided by Meyerf. This is a Nuffnang advertorial.