Summer is over and rainy days are here! I'm sure most of us became toasted and burnt from our beach escapades. The change of season also means changing or altering some beauty routines. Some change their moisturizers, body lotion, lip balms, etc. for a more moisturizing variety because this weather can make our skin dry. For me, it's the start of making my skin a bit lighter (para lang bumalik sa dati yung kulay ko).  Hence, I bought Mestiza soap (Php 45). I used this even before but wasn't able to make a review.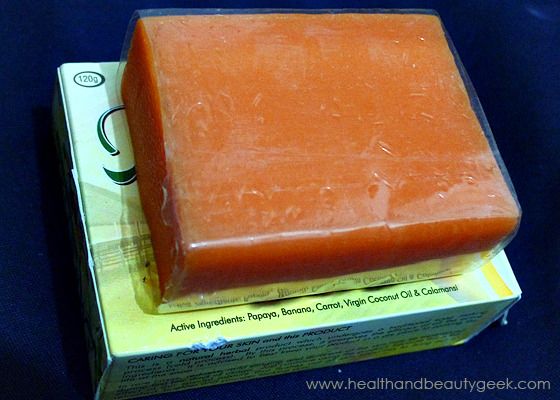 Unlike other skin whitening soaps which have papaya as the only whitening ingredient, Mestiza has 4 whitening ingredients: papaya, banana, carrot and calamansi. So I'd like to think that it's more effective in lightening my skin.
Packaging-wise, the box is a bit big for the actual size of the soap. I hope it's not a marketing ploy to make consumers think that the soap is big as the size of the box.
No unpleasant/allergic  reactions on my skin even the first time I used this that's why I bought this again. Skin lightening can be seen from 3-4 weeks of continued use. My MIL and BIL who influenced me on using this soap also said that it cleared out their pimples.
Like most whitening soaps, Mestiza soap also made my skin dry but I just apply lotion afterwards. I'm using this as a body soap during my day and night shower and as my facial soap at night. I use this together with my Asian Secrets Lulur Whitening Body Scrub.
What's your HG skin whitening soap? How long did you use it to see the results?