Few winks from now and it's back-to-school again. So boys and girls, savor every sunshine this summer coz you'll be back to the daily grind. While it's sad that vacation is coming to an end, I also felt excited for the coming school year when I was still a student. It means being back to the company of your friends, going to your usual hang-outs or tambayan. Another thing that excites me for the coming school year is shopping for new clothes, shoes and bags and of course school supplies (of course, this is not fun for my parents, hehe). I love shopping for notebooks, until now, I'm a pen and notebook gal, I still like to jot down things instead of using my phone as an organizer. I'm crazy about colorful notebooks and those irresistible pastel colored pens. Sigh, makes me want to go back to school because of this…
And if you're looking for an organizer, look no further because Campus Belle de Jour Planner (Campus BDJ) 2012-2013 is here! Yes, it's Belle de Jour Power Planner's younger sibling so it's still fab. Campus BDJ is now available at Php 398 at all major bookstores.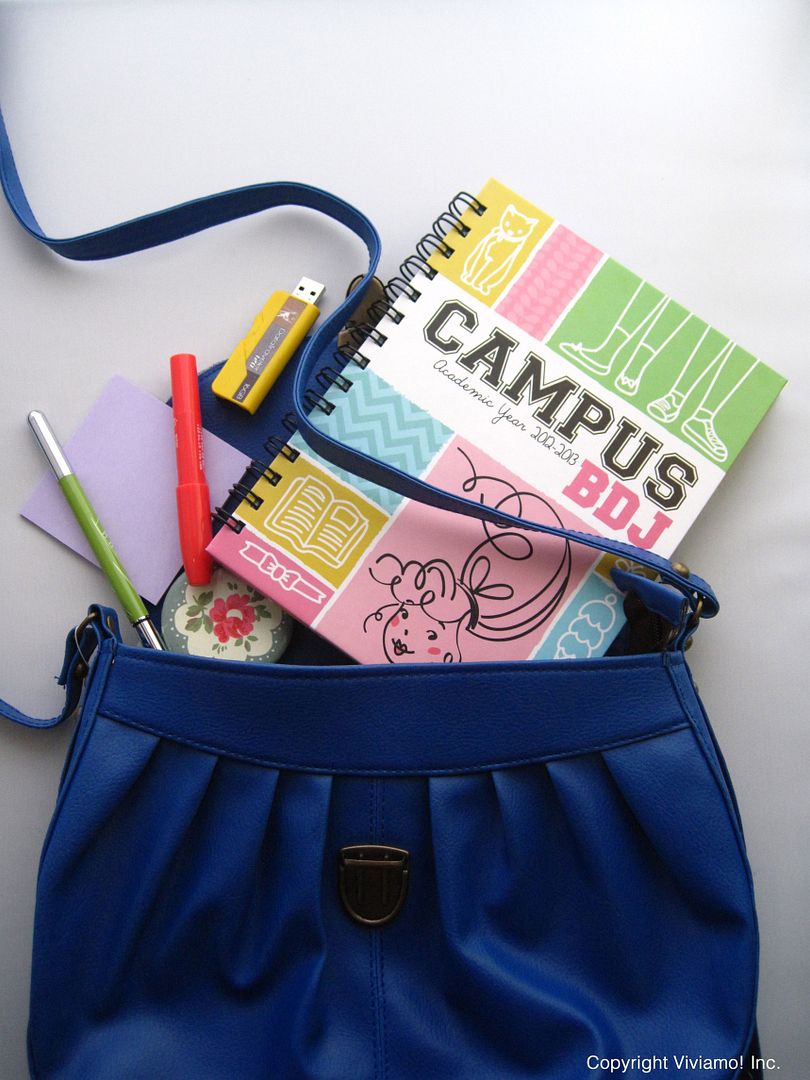 love the pastel-colored Campus BDJ Planners for 2012-2013
Campus BDJ is a multitasking tool that aims to help young BDJ Girls to be encouraged and inspired to put into paper their dreams, their desires and their emotions, making it easier for them to turn them into reality; to go through different new stages, experiences and opportunities that they'll surely learn from.

Young BDJ Girls can use it to keep track of their daily homework and projects, to save reminders on important dates like their loved ones' birthdays or even school holidays, to jot down new ideas, to envision both short term and long term goals, and to enjoy the many perks (that will help them save when shopping) this power planner has.

Our staple Campus BDJ features will definitely be helpful: tracking tools to help young BDJ Girls keep tabs on this school year's goals, schedule, grades and expenses, a nifty project planner, sembreak and next school year's planner and monthly spaces for the many lists we girls love to make!

Each month starts with practical tips and hints to help young BDJ Girls be the best bellas they can be and to enjoy the best of everything life has to offer, in and out of school. With these pages come a mini-section of mini-workshops, to help preserve and cherish life's precious memories, and at the same time help discover something new about oneself.

From being the best they can be as a student, a daughter and as a friend, Campus BDJ can help girls weave the best stories of their lives!
A SPECIAL BACK-TO-SCHOOL TREAT: From May 15 to June 15, Campus BDJ is available at a special online price of Php380 when orders are made directly at the BDJ website (http://www.belledejourpowerplanner.com/bdj/order.php).
You can also send in your orders to sales@belledejourpowerplanner.com stating your COMPLETE NAME, COMPLETE MAILING ADDRESS, CONTACT NUMBER and ORDER.
GIVEAWAY ALERT!!!
I'm giving away a 2 pieces of Campus Belle de Jour Planner 2012 for you and your bestfriend. This is open to Philippine residents only, 2 pieces of Campus BDJ Planner will be shipped to (1) winner so that you'll be the one to give it to your bestfriend. Just enter through Rafflecopter below: