Jeff and some of my officemates ran for Run United 2 2012 earlier, it's also Father's Day so it's a different way to start the day, Jeff said it's full of good vibes! It's been a while since I joined a race, and I must agree to what Jeff said. I felt sluggish and almost dragging myself to get up from bed to be at SM Mall of Asia by 4:30 am (assembly time for 10k runners), and it's raining so it's very conducive to just sleep. We went to SM MOA anyway, and found plenty of runners doing their stretches already. Jeff and our friends headed to their starting line while I took photos of the event. And oh, I was there to be Jeff's human baggage counter, hehe, I don't mind.
The race started on time, it followed the 5:30 am gunstart for 10k runners. I was following some twits and 21k runners also started theirs on time. While waiting for them, I wandered around the area to check out what's new in the racing scene. A large parking space was converted into an Active Health Expo where the stage is also located.
SM Mall of Asia complex is huge, so it's a good thing that Run United 2 maximized all the open spaces for all the facilities they can think of.
They have set up separate booths of baggage counters depending on your race categories. Depositing and claiming your baggage is hassle free.
Claiming of finisher shirts for the 21 km runners is also very efficient since the booths are segregated depending on the sizes of your shirts.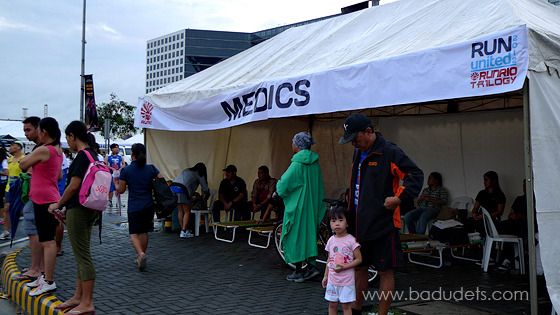 First aid/medics are readily available.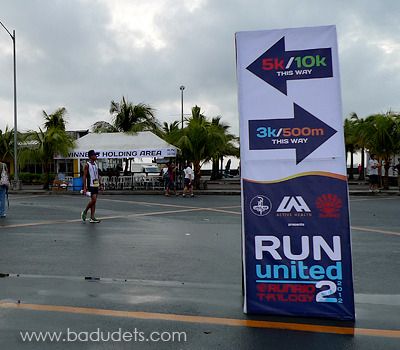 Plenty of signs/directions for the runners. Marshals, RunRio staff and security also abound in the area to guide the runners.
But what set Run United 2 apart from other races is because it pays attention to your whole family needs. I wrote that Run United 2 is for the whole family, remember? Well, they have an area dedicated for kids. While waiting for mommies and daddies reach their finish line, kids and yayas can enjoy activities at the play area brought to you by Ceelin and Enervon multivitamins.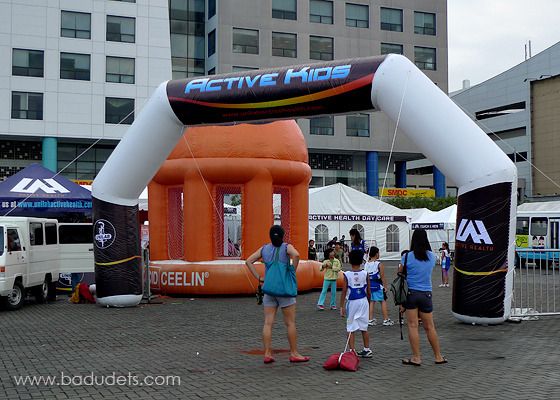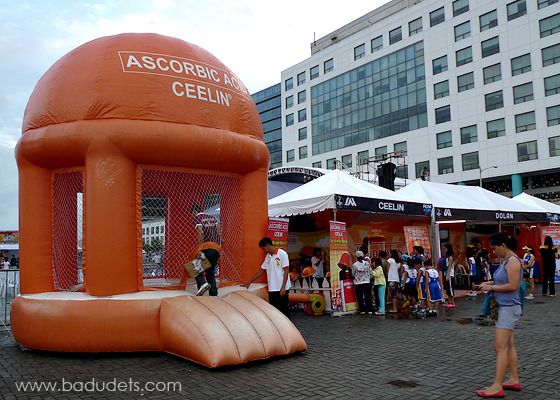 Look, there's a Parent's Lounge and Active Health Day Care.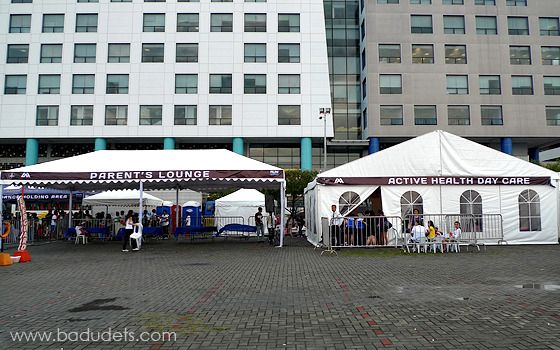 One of the least things I look forward to during a race is to use the portalets. I'd like to tell you what I smelled and saw in portalets in the past but it's too gross! Surprisingly, Jeff told me that the portalets are clean and smelled like Albatross. Albatross smell is good compared to you-know-what, =). There are plenty of them so no need to line up should the need to pee arises, I also saw one or two portalets scattered along the race paths.
Food Pavilion is located inside the Active Health Expo. There's also a Winner's Holding Area and marshals are very alert to accompany and guide the runners.
Some fun pics before I end this post…
Overall, Run United 2 is a success! It's a very organized event by Unilab and RunRio. For Run United 2 race results, visit http://www.unilabactivehealth.com/.