After the success of Run United 2, the third leg of the Runrio Trilogy is set on September 16, 2012. Run United 3 has always been anticipated because it offers what is dubbed as the "Afroman distance" or 32k category—not usually included in other run races. There are still the usual race categories: Ceelin 500m dash, 3k, 5k, 10k, and 21k.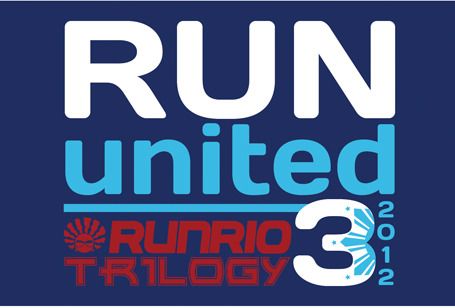 Online registration for Run United 3 started on August 6 and will continue until September 2, 2012. In-store registration will start on August 13 and will be up to September 9, 2012. Registration venues include Riovana in BGC and Katipunan, Quezon City; and Toby's at SM Mall of Asia and Trinoma.
Run United 3 Registration Fee:
500 m – Php 350
3 KM – Php 600
5 KM – 700 Php
10 KM – Php 800
21 KM – Php 900
32 KM –  Php 1,000
The runners will receive their complete race kits upon registration (Active Health Sun Visor, Singlet, Bib with B-Tag and wrist tag for 500m dash runners). The wrist tag for 500m dash kid's runner which is usually given on race day will now be included in their race kits upon registration.This is a great development compared to Run United 2.
Coach Rio dela Cruz said that there will be new features and surprises on September 16. There will be new routes as well as different starting and finish lines again for Run United 3 in the 21K and 32K categories, like in the previous two races for 21K.
The 32K runners will have a gun start at Bonifacio Global City (BGC) starting at 3am, an hour ahead of the 21k runners. They will be led from BGC to take their first 10k in University Parkway area, then move up to Kalayaan Flyover. Then, they will go all the way down to Buendia, take left at Roxas Boulevard, turnaround taking the roads of Vicente Sotto, Diosdado Macapagal and on to EDSA before finally turning left at Seaside Boulevard for the finish at the Mall of Asia (MOA).
The 21k will have an earlier gun start at 4am compared to Run United 2's 430am. They will have the same route as the 32k runners, but instead of going to EDSA they will turn right after Macapagal Avenue, turning right at Seaside Boulevard and then all the way to the finish line in MOA.
"Run United 3 runners will get to run across three cities— Taguig, Makati and Pasay. Based from the feedback we got from them, they really enjoyed the experience and the new routes. The earlier gun start of both race categories will give runners a safer route as well," said Dela Cruz of RunRio Inc., the race organizer.
Fun and exciting activities await runners and their family at the Active Health Village, new and bigger Active Kids Zone, Runners' Lounge, I-Connect Zone, The Food Pavilion and Health, Sports, & Leisure Zones.
Run United 3 is for the benefit of Gawad Kalusugan and Children's Hour.
Visit www.unilabactivehealth.com or www.runrio.com for more info.