Ever since I gave birth (that's one-and-half years ago), I never came back to my pre-pregnancy weight. And to make it worse, it seems that my weight is going anything but up. I always make this an excuse, "I'm a mommy and I need to eat to keep up with the demands of my toddler".
Jeff already pointed out this to me, "We need to start living healthier so that we can live longer to witness and enjoy the growing up years of our daughter."
We tried starting a healthy lifestyle by running and eating more healthy food. Unfortunately, the accessibility of fastfood and being lazy got us back into junk-food-eating-couch-potatoes.
Last month, I was invited to be part of the Bloggers' Edition of C-lium Lose More, Live More program. Selected bloggers are challenged on a one-month weight loss and special prizes will be given to those with the biggest drop in BMI, bad cholesterol levels, and blood sugar levels. I'm really not after the prizes but I joined because I think I really need this as motivation for me to start on a healthy lifestyle again.

Challenge Accepted!
Initially, I have to undergo an executive check up at the Medicard Lifestyle Center in Makati. After 10-12 hours of fasting, my blood was extracted for cholesterol screening and fasting blood sugar tests.
The results…

I got surprised when I saw that my cholesterol level is high at 213, normal levels are at 0-200. I thought I just need to lose weight, alright, but I never knew that I already have an underlying cholesterol problem. Oh well, I eat fried food, chicken skin and pork fat, =(. My HDL, which is High-Density Lipoprotein, is at 76, normal levels should be 40-60. However, HDL is good cholesterol, meaning it keeps away the bad cholesterol from building up the arteries. From medical sites, high HDL is preferred, I just don't know if having higher HDL than the normal range is still good.
After the blood tests, I was directed to Dr. Adrianne Ortiz, a nutritionist, to get my body circumference measurements and Body Mass Index (BMI). My BMI is normal at 22, but bordering on the maximum BMI which is 22.9 (malapit na!). I saw Dr. Ortiz encircled my waistline which is 30 inches, this means I need to work on a slimmer figure. She also assessed my eating and exercising habits. I recorded my session with her, watch it because it's helpful especially her discussion on servings of food intake.
The last test was the Treadmill Stress Test. My first time to undergo this test, the nurse told me that this is to monitor the heart when it is at work or at stress hence, I need to walk/run in the treadmill for a specific period of time with all the contraptions on my body.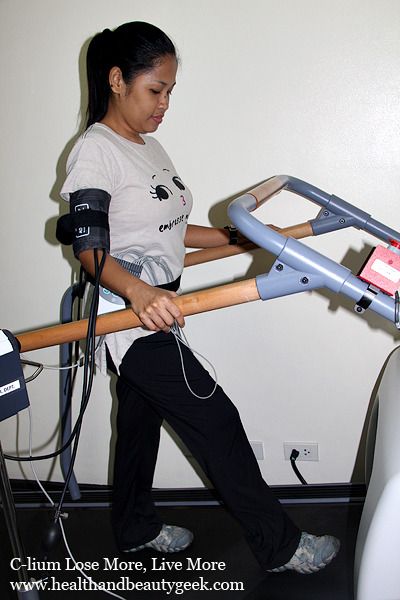 I reached 100% at Stage 2. The Doctor and the nurse who facilitated the test seemed okay with my results.
My Battle Plan:
Exercise. Take the stairs. Walk a lot. Be active. I don't know if I still have the time to go to the gym but doing more activities will help burn more calories.
Stick to the 1350 kcal diet per day.
No Coke, milk teas, Starbucks and powdered juices. These are the culprit why my tummy is getting bigger and bigger. Hello 30-inch waistline, =(.
Refrain from eating in fastfood. Home-cooked meals are still the best because I can control how much salt, oil and other ingredients I put in the food.
Avoid fatty food. Goodbye chicken skin!
Lessen sweets like chocolates and cakes.
Of course, my Lose More, Live More journey won't be complete without taking C-Lium fibre 30 minutes before breakfast everyday. I prefer to mix it with natural juices.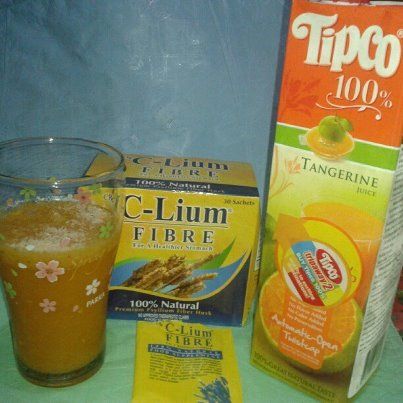 I'm already on my first week, watch out for my weekly updates and join me in my Lose More, Live More journey.
Everybody can join C-lium's Lose More, Live More promo and get a chance to win Php 10,000. Visit and register at http://www.clium.com.ph/losemore/.
Don't forget to like C-lium on FB (https://www.facebook.com/Clium) and follow on Twitter (https://twitter.com/cliumfibre).