If I have to list my favorite food, I'm sure buffalo wings will be in that list. It's a (chicken) joy to eat, I'd like to eat it with my bare hands, no plastic gloves. I like it crunchy with lots of sauce seeping into the nooks and crannies of the wings. Some days I like it hot, some days I just like the non-spicy flavors.
Most restos nowadays have came up with their own version of buffalo wings so I don't have to go all the way to Makati just to have my wings fix at Wingman. And now, I found another reason all the more not to go there anymore because there's a new Buffalo's Wings n' Things near my office, it's in Sgt. Esguerra, Quezon City.
It's a well lit place because of the large glass window at the front. We love to sit beside the window, while Jeff watches UFC on their TV.
Buffalo's Wings N' Things Menu: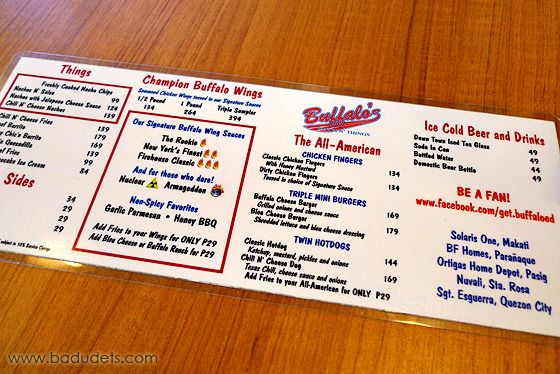 They have different spiciness levels for their buffalo wings: The Rookie, New York's Finest and Firehouse Classic. We're not that adventurous so we always had New York's Finest. For the non-spicy, I love their Garlic Parmesan.
New York's Finest has the right amount of kick to excite your tastebuds and will make you still taste the flavor of chicken meat.
I just love butter (no matter how evil it is!). Garlic Parmesan has lotsa butter yet it still remains crunchy.
We just order 2 servings of Dirty Rice and we're satisfied for lunch!
Check out other restaurants that serves chicken wings:
Any other restaurants that serves good buffalo wings can you recommend?