Week 4 of my C-Lium Lose More, Live More journey is the most memorable and action-packed of all. This week, C-Lium Ambassadors met up at the Philippine Army Gym for the CrossFit workout. CrossFit is new to me, so I visited their website first for me to know what to expect. And whoa, I got scared at first, at the same time, curious about CrossFit.
CrossFit workouts are constantly varied movements executed at high intensity, thus every workout is different and you will rarely do the same thing twice. The workouts themselves are completely scalable, which means that a new participant and an elite athlete can complete the same workout with changes in load and intensity. CrossFit workouts will deliver phenomenal fitness in and of themselves or as a compliment to your sport-specific training regime.

Basically, CrossFit is not your ordinary workout, but it is for ordinary people looking for extraordinary results.
I prepared for my CrossFit day, slept early so that I will have the strength to endure the routines. I also read from the site that minimalist shoes are recommended for CrossFit so I wore my Vibram Five Fingers.
Pinoy Biggest Loser's Art Mendoza and Angela Lupango also joined our CrossFit session. They really do CrossFit training post-Pinoy Biggest Loser.
Coach JV of CrossFit MNL prepped us first before doing the WOD (Workout of the Day).
And for the WOD, we have to do the following routine as many as we can within 10 minutes:
7 wall balls
7 push ups
7 box jumps
7 burpees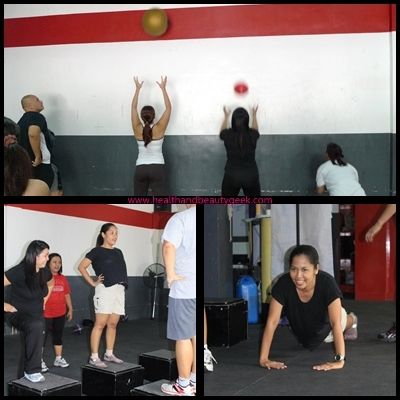 Looks so easy eh? Not for me! I find the wall balls and the burpees the hardest. Wall Balls is hard because of that 3-kg ball that I have to throw as high as possible, wtf?! The burpees, well, you've seen the burpees how-to on my week 3 post.
For 10 minutes, I was able to do 3 sets of WOD (sapilitan pa yung 3rd round, haha).
But if I'm obliged to choose a workout routine, I will definitely pick CrossFit. It's not time-consuming (15 minutes is all you need), no expensive machines, and it's a complete body work-out that targets my legs, butt and abs.
Right after the CrossFit training, it's time for a post-recovery meal. We headed to Kuya's for a sumptuous lunch. Ms. Nadine Tengco, Pinoy Biggest Loser Pinoy Edition resident chef and nutrionist, were there for an afternoon talk about dieting and nutrition.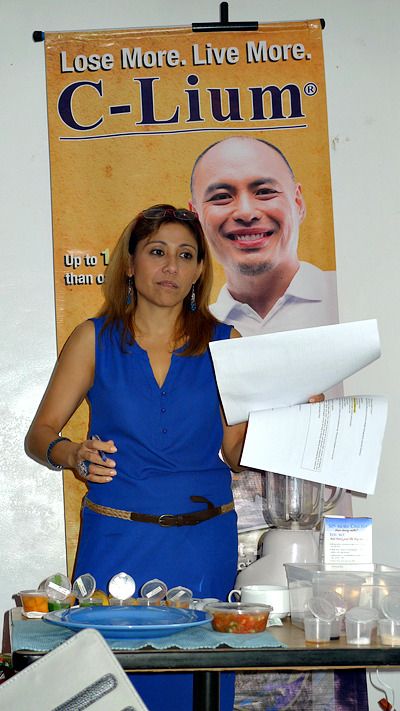 She showed us how to be more creative with C-Lium Fibre, aside from mixing it with our juices, we can incorporate it when cooking or making sauces and smoothies.
So the next morning, I mixed C-Lium Fibre with my champorado for breakfast.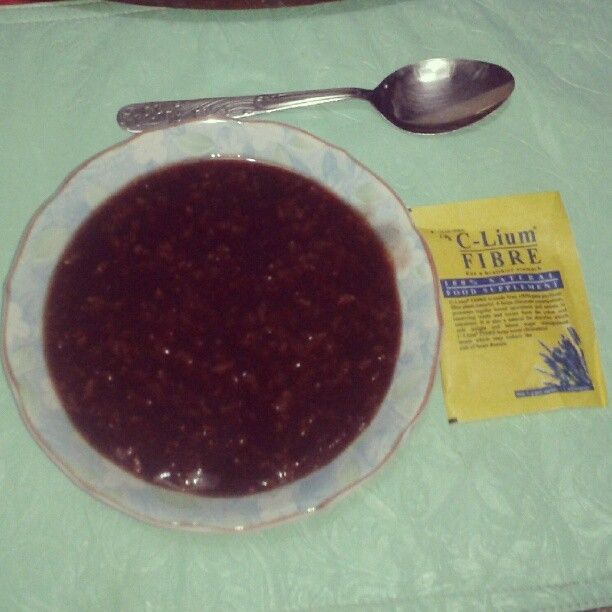 I learned a lot from Ms. Nadine Tengco that afternoon. Let me share to you my notes:
A post-recovery meal 90 minutes after work-out is crucial.
Effective weight loss is to maintain a healthy metabolism.
Weight maintenance is keeping the blood sugar constant by keeping metabolism constant.
Include the 4 fat fighting vitamins in your diet: vitamin D, omega 3, calcium and fibre.
Eat carbohydrates with protein. You will get hungry easily if carbohydrates alone because it is digested after an hour. Protein is digested after 2 hours while fat is digested after 5-6 hours.
Fiber slows down digestion.
Finally, here are the 3 keys that we should keep in mind when losing weight:
Frequency – eat 3-4 times a day. Even when you're not hungry, you still need to eat to keep your metabolism going hence maintaining a stable blood sugar.
Quality – Choose nutrient-dense food (most amount of nutrients with small amount of volume). Food that have high amount of water and fiber is also recommended. Choose raw, whole and unprocessed food.
Quantity – Because you will eat 3-4 times a day, it is important to watch out for your calories. Make sure that it is properly distributed throughout the day. Say, 350 calories for 3 major meals and 100-200 calories for your snacks is okay.
Everybody can join C-lium's Lose More, Live More promo and get a chance to win Php 10,000. Visit and register at http://www.clium.com.ph/losemore/.
Don't forget to like C-lium on FB (https://www.facebook.com/Clium) and follow on Twitter (https://twitter.com/cliumfibre).