If you're still searching for the answer to your skin's biggest nightmare, aka, acne, then I say, stop trying different brands and stick to the one that works. Proactiv Acne Treatment System is all you'll ever need to treat acne and make way for clear skin.
Here are 5 reasons why you should buy Proactiv:
Proactiv is the No. 1 anti-acne treatment in America and in the Philippines. It clears your face from acne and it helps prevent pimples from coming back.
Acne treatment is as easy as 1-2-3. All you need are 3 products: Renewing Cleanser, Revitalizing Toner, and Repairing Lotion.
Proactiv is trusted by top Hollywood celebrities like Katy Perry, Jessica Simpson, Justin Bieber, Julianne Hough, etc.
It has Money Back Guarantee. They would not dare offer a money back guarantee if this product won't deliver results.
You can win a limited edition Justin Bieber's Someday perfume when you a buy a Proactiv set.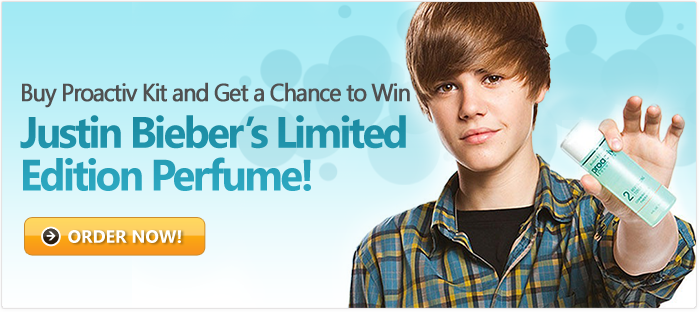 PROMO MECHANICS
SALES PROMOTION PERIOD: April 1 – May 31, 2012

PRODUCTS PURCHASED:

Proactiv Solution 30-day kit: Php 2,495 (Equivalent to 1 Raffle Entry)
Proactiv Solution 60-day kit: Php 3,995 (Equivalent to 2 Raffle Entries)

WHO ARE QUALIFIED TO JOIN THE RAFFLE:

The promo is applicable to Philippine Territory only and limited to residents of the Philippines only. Customers who bought Proactiv Kit from the listed participating outlets during the duration of the promo period are entitled to join the raffle. One Proactiv 30-Day Kit purchased is equivalent to one raffle entry. One Proactiv 60-Day Kit purchased is equivalent to 2 raffle entries.

WHO ARE NOT QUALIFIED TO JOIN THE RAFFLE:

Employees of Top American Products Solutions Inc. and their relatives up to 2nd degree are not qualified to join the raffle. Suppliers, partners, and consultants of Top American Products Solutions Inc., are not qualified to join the raffle.

Anyone caught attempting to manipulate the results of the raffle is subject to immediate disqualification. Top American Products Solutions Inc., reserves the right to deactivate such raffle entries without further notice.

Only purchases made by individuals are allowed are entitled for raffle entries. Bulk purchases with the intent to resell Proactiv will not be qualified for raffle entries.

HOW TO JOIN

All Watsons' outlets or SM Department Store branches. Customers who purchased from any Watsons or SM Department Store must retrieve their Official Raffle Entry Forms from the following Redemption Branches.

i. SM Department Store Megamall
ii. SM Department Store Makati
iii. SM Department Store North EDSA
iv. SM Department Store Mall of Asia

Alternately, for customers from Watsons that are far from the Redemption branches can still submit their entries by sending an email of a scanned copy of their Watsons Official Receipt to customer@proactiv.com.ph, plus the complete details as follows:

Customer Name:
Customer Address:
Customer Contact Number:
Customer Email Address:
Product Purchased:
Date of Purchase:
OR Number:

Also, there should be a statement in the email: "I have read and understood the Terms and Conditions of the Proactiv Promo: Buy Proactiv Kit and Get a Chance to Win Justin Bieber's Limited Edition Perfume."

For Proactiv Kiosks and Watsons customers, they must fill-out the Official Raffle Entry Form with the following details:

Customer Name:
Customer Address:
Customer Contact Number:
Customer Email Address:
Product Purchased:
Date of Purchase:
OR Number:
Signature of Customer:
Signature of Promodizer:

The Official Raffle Entry Form must be submitted to the Proactiv Promodiser in charge to qualify for the raffle.

Customer must buy Proactiv kit within the prescribed promo period. Purchases of Proactiv Kits outside the promo period are not eligible with a raffle entry equivalent.
Customer must not return the product. If a customer avails of the standard limited Money back Guarantee that comes with every Proactiv 30-day or 60-day kit, this forfeits the subsequent activation of his or her raffle entry.

For every purchase of:

– Proactiv Solution 30-day kit is equivalent to one (1) Raffle Entry
– Proactiv Solution 60-day kit is equivalent to two (2) Raffle Entries

Official cut-off of the promo purchase period is:

First Draw: May 7, 2012, 11:59:59PM (for purchases made from April 1 to April 30, 2012)
Second Draw: June 4, 2012, 11:59:59PM (for purchases made from April 1 to May 31, 2012)

PRIZES:

There will be a total of fifteen (15) winners of Justin Bieber's Limited Edition Perfume (P2800 each). Total of P42000 worth of perfume will be given away.

First Draw (May 8) – 7 winners
Second Draw (June 5) – 8 winners

CONDITIONS OF THE PRIZE

The Prize is not convertible to cash and or other Proactiv products.
The Prize must be personally picked up by the winner from the office of Top American Products Solution, Inc. located at 17th Flr. Tower 2, RCBC Plaza, 6819 Ayala cor. Gil Puyat Avenue, Makati City, Philippines.
For Winner(s) who purchased from Online Shopping Cart or Door-to-Door Delivery Hotlines, a valid ID must be presented upon claiming the prize.
For Winner(s) who purchased from participating Proactiv Mall kiosks and Watsons Stores, a valid ID and the Official Receipt must be presented upon claiming the prize.

HOW TO CLAIM THE PRIZE:

The winners will be notified via email or a phone call a day after the raffle draw. Prizes must be claimed until May 18 and June 16 for the first and second draw respectively until 5PM only, or these will be forfeited without further notice. Winner must personally claim the prize and must bring a valid ID together with the Official Receipt.

Winner must agree to have picture taken upon receiving prizes in addition to waivers, which must be signed upon claiming. Top American Products Solutions Inc., reserves the right to use winner's information for all marketing purposes to promote Proactiv and unlimited media, in perpetuity.

If the winners avail of the Money Back Guarantee after claiming the prize, the actual cost of the prizes will be deducted to the refund value of the product.

DOH-FDA Permit No. : 0530 s. 2012