Another local beauty brand is added on my list, and its name is Snoe. The Snoe Poudre Extraordinaire is part of my daily beauty regimen. I also bought their Snoe whitening soaps to try. Since my primary concern is to whiten my skin, I chose Snoe White Special Kojic and Glutathione Combo Beauty Bar. Kojic and glutathione are known for their whitening properties so I chose this soap. This is also one of their bestsellers according to the staff.
Say goodbye to dark, dull skin!
Will inhibit melanin production, therefore whitening skin blemishes and dark spots

Dries out and prevents pimples, and helps remove blackheads

Has double whitening action from the mild exfoliation and whitening properties of higher grade kojic  and glutathione, plus other active anti-aging ingredients.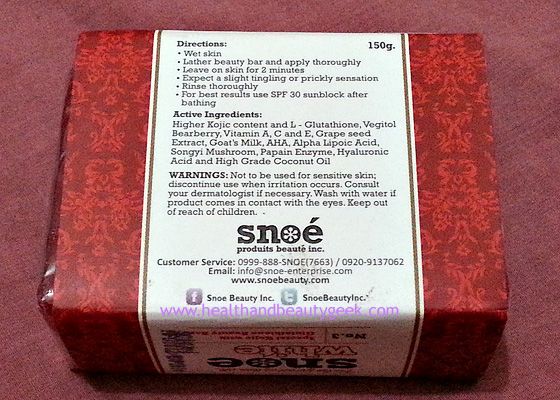 I like the fruity scent of the soap and the rich creamy lather it gives when bathing. This gives me a bubbly bath making my bath time a bit luxurious.
The red coloring for the soap is too much in my opinion, it becomes runny and stains the soap dish and bathroom tiles.
Like with other natural and organic soaps I use, I always cut the soap in three to four small pieces to prolong the use of the soap. However, I find the Snoe White soap to melt fast.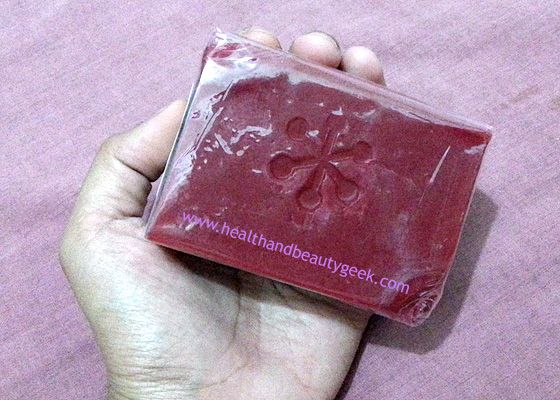 After using this in my bath, I follow up with a non-sticky lotion. I'm just worried that my skin will get dry after using kojic- and glutathione-based soap.
I'm definitely trying out the other Snoe White beauty bars. There are still 11 variants to try. What can you recommend?