2 years ago, I was invited for the launch of Novuhair Herbal Shampoo and Topical Scalp Lotion, I was also given a set to try for review and it yielded great results. Hair fall problems in our family were addressed, and from the comments from that post, it seems that a lot of people are also getting good results from using Nutramedica's Novuhair.
Last month, they launched Novuhair 3-in-1 pack which includes Herbal Shampoo, Topical Scalp Lotion and Herbal Conditioner.
The shampoo and topical scalp lotion is already effective in solving hair loss problems but Nutramedica addressed the clamor of its loyal users to produce a conditioner that can complement the Novuhair products. As what Fanny Serrano said, a lot of people liked their hair to be smooth and soft too.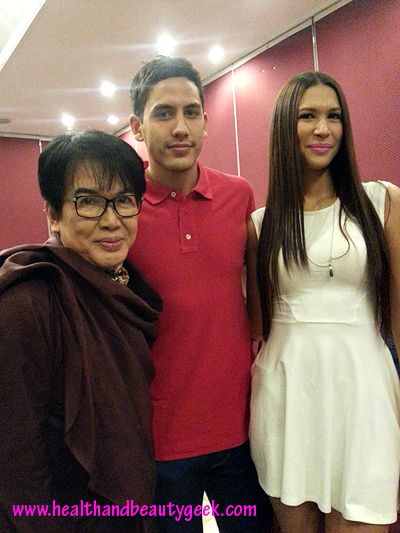 As you can see, aside from Fanny Serrano, beauty queen/model Gwen Ruais is also a user of Novuhair products. She uses it because her hair was damaged because of frequent styling and hair coloring.
Novuhair Topical Scalp Lotion is made with natural ingredients that include moringa oleifera, panax ginseng, biotin, rosemary, lavender, peppermint, lemon grass and virgin coconut oil, which improve blood circulation to the scalp and increase nutrition to hair follicles, as well as improve scalp scaling and prevent early graying of hair, among numerous other benefits. The scalp is thus detoxified and dandruff is eliminated, while hair growth is stimulated and excessive hair fall, remedied.
Novuhair Herbal Shampoo and Conditioner may be used during bathing, to be followed by the Scalp Lotion. Simply massage a generous amount of the lotion onto the scalp for five to ten minutes, and then rinse off or leave on as a hair-styling agent.
Novuhair 3-in-1 Pack retails for Php 4,980 and is available at Mercury Drug and Watsons.