Liquid eyeliners seem to be a must-have in everybody's kikay kits these days. Maybe because liquid liners can instantly transform your eyes dramatically. I'm a fan of eyeliners and I use the pencil-types since college  (my version of an eye make-up consists of an eyeliner+mascara). On my recent Sasa escapades in Hong Kong, I was confused with all the varieties of liquid liners from Japanese brands, waterproof, etc…
One of the most affordable liquid liner I got is this Maybelline Hypersharp Liner in Intense Black.
Sasa website sells this for $ 10.70, it's around 85 HKD. Here in Manila, it's Php 399.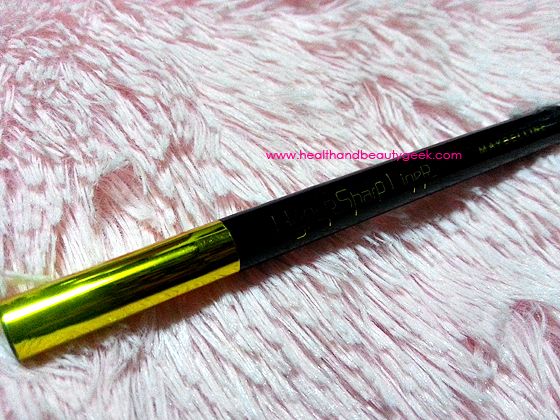 Description:
Water proof.

Create the perfect eyeline with hyper sharp liner's ultra-refined brush.

The intense black color defines your eyes beautifully.

Impressively for the most precise eye look you crave for.

Super Precise 0.05mm eyeline by its ultra-refined brush.

The ultra-refined brush allows for super precise eyelines.
I already used this on most gatherings last Christmas. I'm getting the hang of it since it's my first time to use a liquid eyeliner. Not bad for a first-timer to use this because it dispenses just the right amount of liquid. The slim pen-form is easy to hold. Staying power is amazing, I already washed my face and applied toner and yet the liner is still intact. I have to buy a remover for this.
Since I'm too shy to post an actual photo, just watch the MaybellineSimplyFab Youtube videos on the different looks you can do with the Maybelline Hypersharp Liner in under 1 minute. I want to master the winged eyeliner! Here's an example, for double eyelids: