After its grand opening last June 15, it's only now that I was able to visit and shop at Uniqlo. The lines during the first few days were phenomenal, I heard. Earlier, there were also plenty of people shopping but no lines to get in. But I have to fall in line for a few minutes in the fitting room.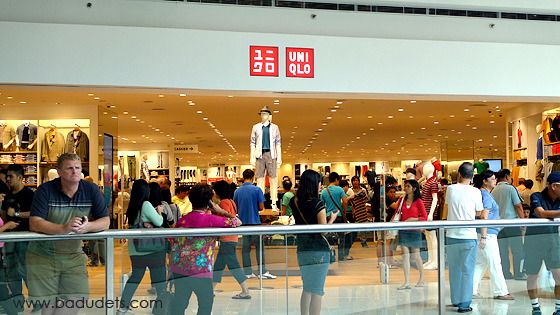 I love Uniqlo and I prefer this over Giordano and Forever 21. For classic and basic wear, I go for Uniqlo but for trendy and stylish wear, I shop at H&M. I was looking forward to shop here ever since I won a Uniqlo Hello Kitty shirt from their Facebook contest months ago.
I wasn't able to take photos inside though, I'm busy shopping! I went home with a pair of pants for me and Jeff and 2 round neck tops. I love Uniqlo for not overpricing their clothes, they are really affordable and value for money for that kind of quality. They also offer free alteration. We had our pants altered to our desired length, we shopped around 3 pm and the pants were ready for pick-up at 5:30 pm that fast!
Great customer service too! Fitting of garments (except leggings and innerwear) is hassle-free, lots of fitting rooms (about 19) and the staff were on standby should you need anything.
I'll definitely be back, I already made a mental note on my next purchases, if only I can free up some space in my orange cabinet.
Have you shopped at Uniqlo? What are your Uniqlo finds?