Use the stairs, more water and half-cup rice. This basically sums up week 2 of my C-lium Lose More, Live More journey.
I posted my battle plan on my previous post in line with the recommendations of the Dr. Adrianne Ortiz, video can also be found in the previous post or in YouTube.
I'm happy to report that I did most of the things I listed on my battle plan, yipeee! Small steps, but big impact on my health.
So how did my week 2 go?
First, I always jumpstart my day with a sachet of C-lium Fibre dissolved in half-glass of juice followed by a glass of water.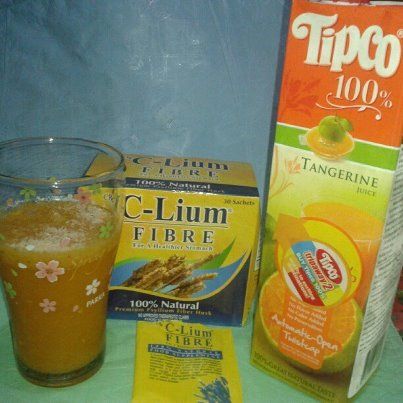 It is recommended to take C-lium Fibre in the morning, 30 minutes before meals for maximum fat absorption. This routine works for me and people on the go. I don't eat breakfast at home, I rush to go to work upon waking up in the morning. But since I started taking C-Lium, I drink it before going to work. After 30-45 minutes and I reached my office, that's the time I'll have my breakfast. Surprisingly, there are times that I don't feel so hungry anymore, that's why I can manage to just have a light breakfast of a slice of bread instead of a meal with rice. Feeling full first thing in the morning also sets the tone for the rest of the day. I don't feel hunger pangs hence I don't crave and overeat.
Second, I took the stairs instead of the elevators.

Did you know that stair climbing is the best way to reduce body fat and burn calories? Not to mention the cheapest way to exercise too! When I took the stairs for the first time, I was catching my breath after 2 floors, I need to stop for a while, breathe and continue. But on the succeeding days, I managed to finish the flight of stairs without stopping. I recommend stair climbing because of its cardiovascular benefits.
Third, more water. I became conscious of my water intake. C-lium Fibre is not gonna work if I don't drink plenty of water. I'm guilty of not being able to consume 6-8 glasses of water before because I'm too lazy to stand up from the computer and walk to the pantry to get water. This time, I am encouraged to move more, get up from my seat every hour to fill my glass of water.
Fourth, consume just half a cup of rice. I followed the nutrionist's advice that half-cup rice is equivalent to 1 serving. This is kinda difficult especially if I like the food. But then, I can just consume the viand without the rice, that means less carbohydrates and more protein.
Fifth, portion control of sweets. I have a sweet tooth. My meal is not complete without finishing it with something sweet. As of now, I still can't get rid of sweets on my diet so what I do is portion control. Before, I can finish a bar of chocolate, it's already open anyway so why not consume it altogether, hehe. Now, I just buy the snack sizes of my fave chocolates  so when I finish the pack, I know it's time to stop.
I haven't weighed or measured my waistline since the medical check-up, it's only been a week so I'm not expecting a drastic change on the numbers. But I'm now reaping the benefits of regular intake of fibre by having regular bowel movements. I'm also confident that by regular bowel movements, toxins inside my body and bad cholesterol will soon be eliminated.
Useful Notes about C-Lium Fibre:
C-Lium Fibre is safe for breastfeeding women. Right after I gave birth, my OB prescribed C-lium Fibre so that I won't get constipated and won't have difficulty removing my bowel. I was exclusively breastfeeding my baby then. Until now, I breastfeed my toddler at night and no side effects seen.
C-Lium Fibre helps control hyperacidity. I suffer from hyperacidity from time to time and it's good to know that C-lium helps ease discomfort by absorbing a lot of acids and allowing the body the time and opportunity to heal itself.
Everybody can join C-lium's Lose More, Live More promo and get a chance to win Php 10,000. Visit and register at http://www.clium.com.ph/losemore/.
Don't forget to like C-lium on FB (https://www.facebook.com/Clium) and follow on Twitter (https://twitter.com/cliumfibre).