With this 34-35 degree Celsius temperature here in Metro Manila, who could resist a cold treat? A fruit shake, a Magnum, or even a dirty ice cream, anything just to keep me from overheating. One time after lunch, I chanced upon a store that sells Korean ice cream, I know it's Korean because of the characters, hahaha. They have Melona but I bought the one similar to an ice cream sandwich at Php 40 each.
I got the cheesecake flavor while Jeff got (of course!) the chocolate. He was expecting a similar taste like his favorite Funwich, but Binggrae has a chiffon cake.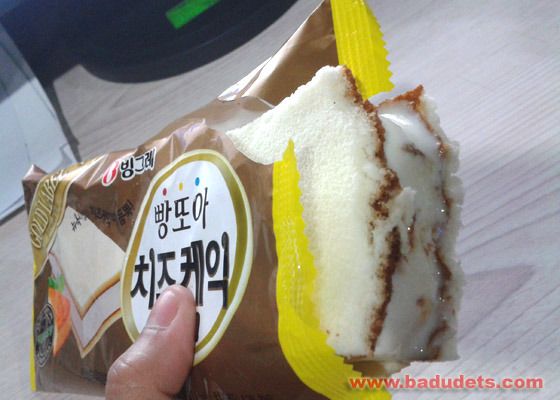 I wasn't able to take photos of the chocolate flavor but it tasted good. My cheesecake flavor ice cream bar is rather flat tasting, maybe because I don't like chiffon cakes that much. These Binggrae ice cream bars remind me of Bake & Churn ice cream cakes.
Aaah, this summer heat will make me gain weight. Taste-testing these ice cream treats from Korea is an adventure on its own, don't you think? And I plan to try the others like Melona, Cledor, etc… What Korean ice cream brands have you tried? Share!