I got invited to try The Spa's newest treatment, The Spa Reflexology. Being a spa and massage addict, I immediately booked an appointment at their Trinoma branch since my body is yearning for some pampering and relaxation.
The Spa Reflexology is the latest offering from The Spa and it's only for Php 550! You might think that this is already expensive for just a foot massage but read on to find out that this is in fact a whole body massage after all.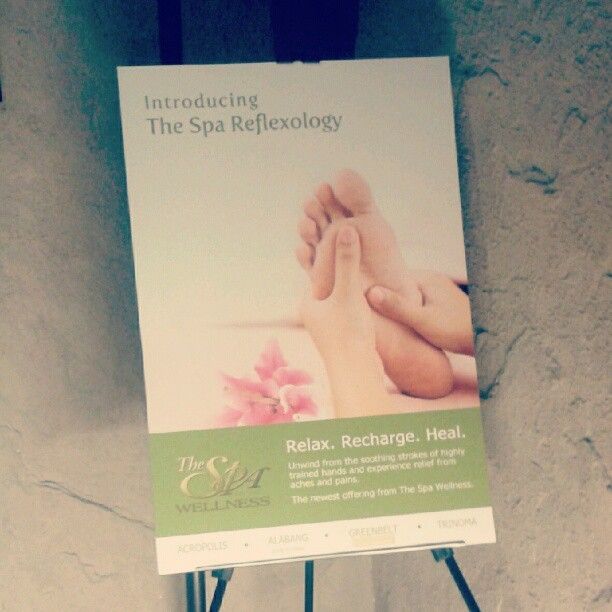 The Spa Reflexology is a healing massage that focuses on particular "pressure points" of the soles of the feet, where sensory nerves of the internal organs that spread throughout the body are mainly gathered.A different massage experience awaits clients as hands, fingers and a wood stick with cream and oil are used unlike other massages that use thumbs, palms and elbows.
The treatment rooms in the Trinoma branch look like this…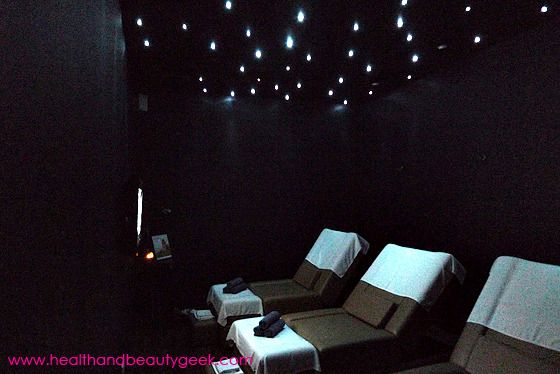 One room can accommodate 3 persons, 3 reclining chairs were spaced just right, not too far and not too near so that you can still chat with your friends and relax at the same time. I like how the dimly lit room immediately relaxed me. An LCD TV hangs on the wall so that you can watch a movie while having a massage. But I can do without the LCD TV and a movie, I just want to listen to relaxing music and close my eyes whenever I have a massage.
You don't need to change into robes for this procedure, just come in comfortable clothes.
For the massage proper, a warm foot soak first.
While having my foot soak, the therapist started massaging my hands and arms. It was so relaxing already, I thought to myself, "If this is the preview of what's going to happen next, I can't wait for my foot massage!"
And for a truly relaxing treat, warm herbal pillows were placed under my hips and neck while semi-reclined on the chair.
The therapist started my foot massage with combination of strokes and applying slight pressure on the sole. She used her fingers and a Thai foot stick during the procedure. I didn't feel any pain while she applied pressure on the soles of my feet.
From the foot massage alone, the Php 550 price is worth it! But the procedure doesn't stop there, my back, shoulders and head were massaged too, and a stretching concludes the procedure. The Spa really has the best massage chairs and machines, and therapists too!
Benefits of The Spa Reflexology:

Pain and stiffness relief caused by too much exercising or using muscle for too long.
Prevention and cure of symptoms such as headache, stress, asthma, constipation, sinusitis and migraine.
Boosts blood circulation in the system.
I highly recommend The Spa Reflexology if you want to relax, be calm and be healed.
For an ultimate pampering, try the Purity Facial with Organics.
The Spa Trinoma
3rd Floor, Wellness Zone, Trinoma Mall, North Ave., Quezon City
Tel No: 900-8818, 900-8809 / Mobile No: 0933-3861800