I'm a terrible backpacker, even after years of going on trips, I still don't know how to pack my things. I always end up bringing my house, haha. I overpack, which is safer than to miss something important. But on this day of limited baggage allowances on airplanes, I really need to practice packing light. Now that I'm traveling with my toddler, her things are more important like baby bottles, milk, diapers, change clothes, medicines, etc. I can forget one or two of my things but not Gwen's things.
Honestly, my husband, Jeff, is the expert on these things. He can neatly pack his things on a stuff sack and fit it in his small backpack. Albeit small, it has all the necessary things needed, from clothes, toiletries to gadgets.
Let me share to you some tips on how to pack smart and light for your trip: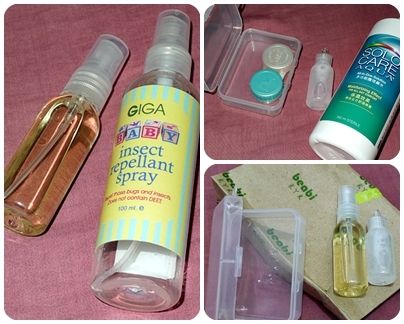 Downsize toiletries. If you can't find travel-sized sizes of your lotion, cologne and other beauty essentials, buy small containers. I bought my bottle spray and small contact lens solution bottle from Beabi, they are cheap and a good investment especially if you're a frequent traveler.
Recycle contact lens containers. Whenever I buy my contact lens solution, there's always a free container. Through the years, I accumulated quite a lot, but now, I found a new use for them. They can be used as travel-sized containers too. I used it to store my night cream and BB cream.
Use Ziploc bags. In case the liquids will spill, your clothes and other things inside your luggage remain dry. Since it's transparent, you can immediately see and grab what you need.
Take a peek on some of the things I'll bring for our weekend trip: facial wash, small Dove soap, contact lens solution, night cream and BB cream on recycled contact lens container, sunblock, feminine wipes, insect repellant spray, Swish breath spray and foldable plastic tumbler. This is still not complete, I'm not finished packing. But some of the things I'll add are shampoo and conditioner on sachets, small tube of toothpaste, toothbrush, cologne, cotton buds, and travel-sized lotion.
Speaking of cotton buds, check out Muji because they have cotton buds that are individually wrapped:
What's your secret on packing your suitcase? Share your tips on traveling light.