Healthy lifestyle and wellness are the trend these days. That's why diet delivery programs, juicing, gyms, and fitness centers are considered as booming businesses especially for the young entrepreneurs. Another good business to consider is the spa. I'm a massage addict, and after a long hard day at work, all I want is to relax and get a good massage. I'm sure most working moms and dads will surely indulge for a nice massage too. Given this, I learned that opening a massage spa franchise is easy and affordable, this is the case for Thai Royale Spa. I tried Thai Royale Spa's Swedish massage at their Timog branch through an invitation and was satisfied and felt great afterwards. I thought with good price points of their services, partnered with great location, it will be a great business.
How Thai Royale Spa started
Thai Royale Spa is a husband-wife tandem with their own passion. The story behind Thai Royale Spa is indeed like its ambiance and their signature lovebird towel designs. It is full of LOVE. The husband needs to go out of the country to work to support his family needs but due to their overflowing love for each other, they think of a business to refrain him from going. The wife left her corporate job to take care of their baby and their growing family. With their love for each other and for the love for his family, the husband chose to stay in our country and together, they create a business that a lot of people can benefit. It is truly an Overseas Filipino Worker (OFW) and corporate mommy turned to be an entrepreneur and mompreneur respectively. That is why Thai Royale Spa was brought up, since November 2010.
Why you should franchise Thai Royale Spa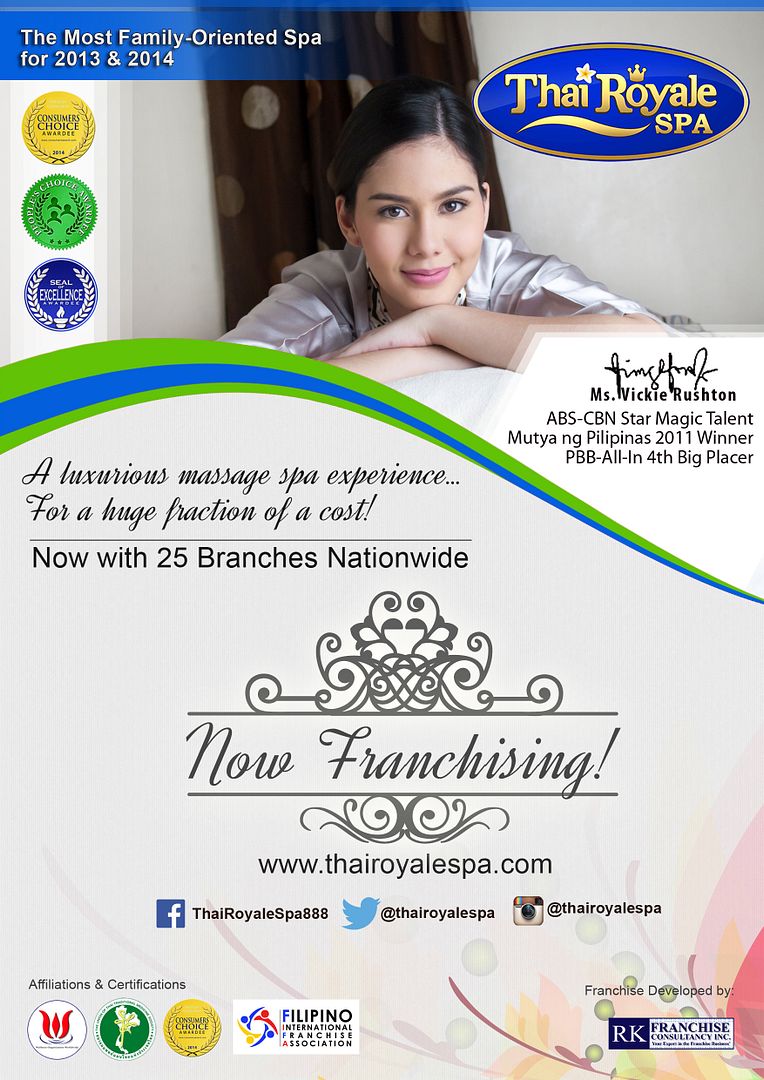 Thai Royale Spa was recently awarded as the 2013 and 2014 Most Family-Oriented Spa in the Philippines. They were awarded as the 2012 Outstanding Young Lady Entrepreneur and Outstanding Pinoy Achiever. They were trained internationally specifically in Bangkok, Thailand and Singapore to make sure that they can master their business and of course to offer the best for their clients and their would-be clients.
Thai Royale Spa has now 25 branches and counting. Thai Royale Spa is a proud member of Wellness Organization Worldwide (WOW) and one of the few that is certified by The Union Of Thai Traditional Medicine Society (International Body Work Training Center) in Bangkok, Thailand so no need to worry about authentication for they only bring you the best.
How to franchise Thai Royale Spa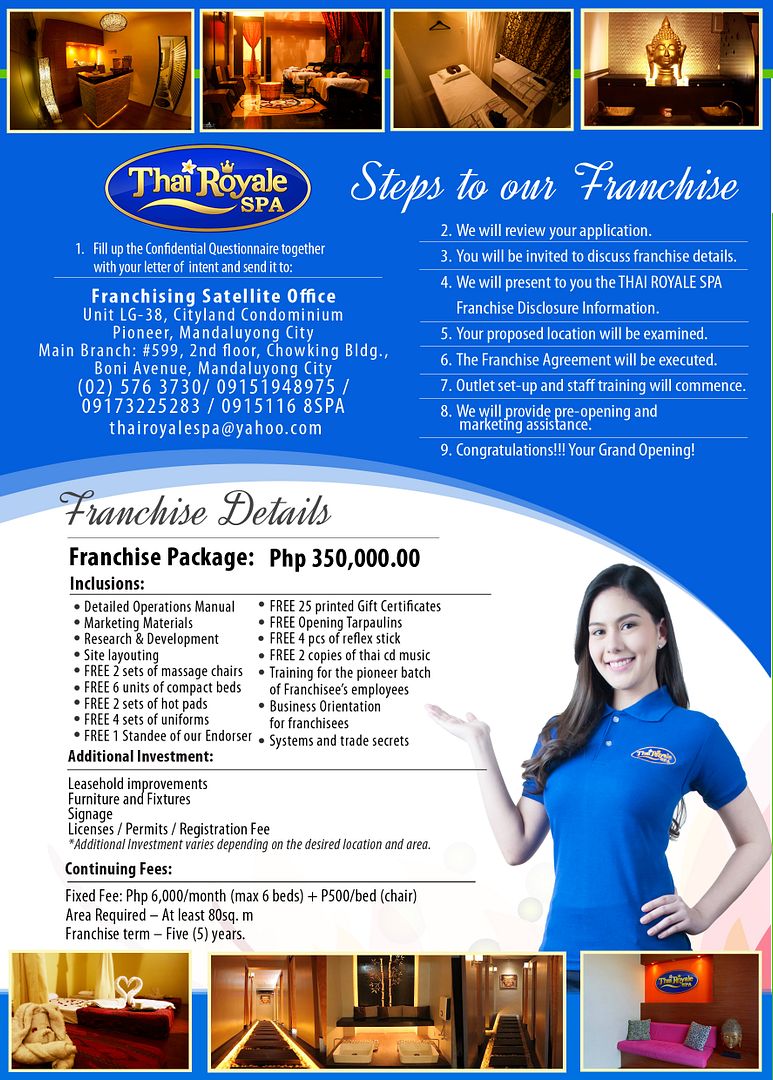 If you're interested in franchising Thai Royale Spa, just follow the steps above or visit this link for more details about the franchise: http://thairoyalespa.com/franchising/