We were craving for pizza so we headed to Shakey's to order just the usual, Manager's Choice and mojos. But the waiter suggested and was really pushy that we get their latest pizza, The All-American Cheeseburger Pizza. Okay, let's try.
The united goodness of burger and pizza with liberal servings of hamburger beef, tomato, onions, lettuce, pickle relish all spangled on our world-famous brick oven-baked thin crust! your enjoyment, our pledge.
First impressions, I think the name Cheeseburger Pizza does not match with its look. The pizza is more like a salad or vegetarian pizza of some sort. The meaty bits hence the name "cheeseburger" are so small. The pizza comes with a special honey mustard sauce and mayonnaise. It's a bit messy to eat because of the lettuce, I had to wash my hands in their sink.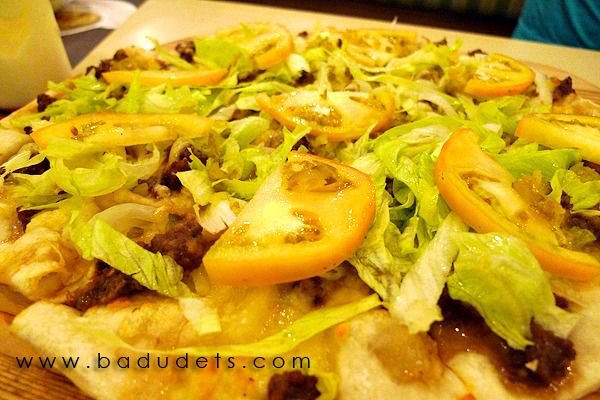 It's a fresh and new taste from Shakey's and it's a nice option for those who want something new. The tomatoes and lettuce gives a crisp and fresh twist to the pizza. And the two sauces, honey mustard and mayonnaise, is a good complement instead of the usual hot sauce.