Whew! Finally, the last leg of the Run United series is over. And even if a week has passed, a lot of runners can't get over the high of finishing the race, especially those who ran the marathon, 42 km. I'm so proud of my marathoner, Jeff! He finished 42 km with no injury, and also to our friends. They completed the Run United series with 21 km-32 km-42 km race categories, exceed yourselves talaga!
Read past Run United races:
Run United 1 2013
Run United 2 2013
One motivation for all of them to complete all the Run United races is because of this puzzle medal: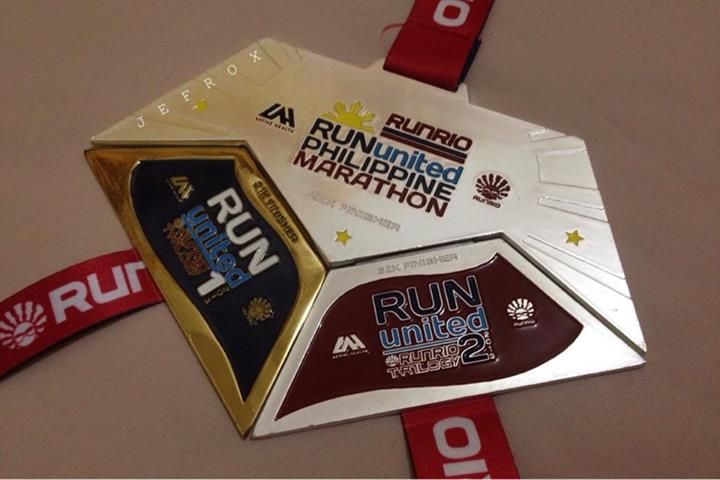 I don't know why the RU1 medal is gold and with a different material than the 2 medals though. But it really is an accomplishment having completed this medal.
Here are the marathoners proudly wearing their finisher's medal:
At the race, marathoners had a grand finish because of the red carpet finish line and they will appear from a make-shift tunnel which is also the stage, with a banner, 42 km finisher!
I ran 10 km again, Jeff was asking me to run in the 21 km category but I don't think I'm prepared enough for 21km. I need more practice, next year na lang.
I finished 3 minutes earlier than my RU2 time, at least may improvement. Exceed yourself nga di ba? :p
Jeff wasn't able to view his Runpix analysis because his bib number and name don't match in the records. If you encountered an error too, email Runrio for corrections.
At the finish line, I saw Coach Rio and I asked for a photo-op.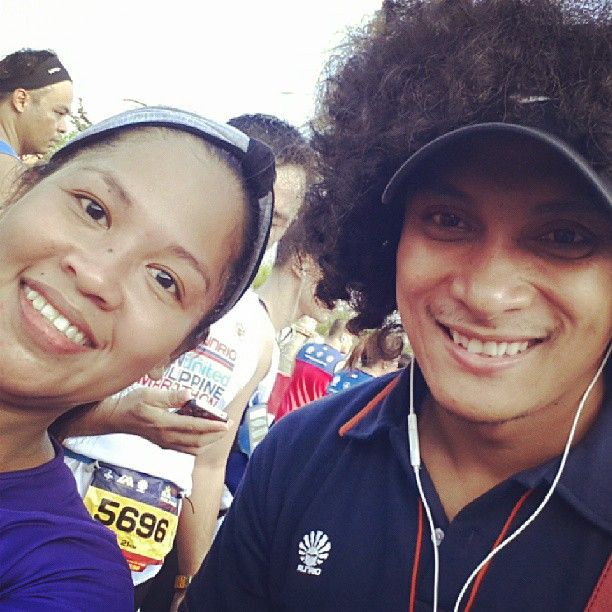 I was looking for my running photos in different FB groups kaya lang wala eh, di talaga ako nahagip ng camera :(.
I love Run United races, always organized and runners are well taken cared of including the nutrition, hydration and stretching. The Unilab Active Health Gel was also given to the 21 km and 42 km runners. Jeff liked it because it's more liquid in consistency hence, better absorption.
After the race, we had breakfast and beer to replenish lost calories. Oh and a massage at The Spa the next day.
RU 2014, I'm ready for you, 21 km maybe?