This is my first 10 km race, and yes, I have no choice but to do a 10 km because that's the shortest distance for Run United 2. The other distances are 21 km and 32 km (Afroman Distance). I figured I can do 4 to 5 rounds around the UP oval which is about 2.2 km, so finishing this 10 km is possible (lakasan ng loob). Jeff ran the 32 km, their gun start is at 3 am. We barely slept! We have to leave the house at 1 am. We were at the Mall of Asia at 2 am because we were worried on the long queue at the parking area. Thankfully, the parking area opened minutes after we arrived.
At 3 am, it's race time for the 32 km runners.
There are marshals (men in black shirts) at the starting line arch checking if you have your D-tag and race bib, otherwise you will not be allowed to enter.
At last, 5:30 am came which is the start time for us 10 km runners. While waiting for the gun start, I noticed that I'm already sweating because it's so humid. I wished that I can bear the heat once the sun is up. I was able to run until I reached the first water station, that's about 2.5 km. It was a treat to drink Gatorade and water with ice. And because it's really humid, I was more worried getting dehydrated than getting a side stitch, I drank more.
Being used to the fresh air inside the UP campus, I can't help but notice the stench of the waters along Roxas Boulevard and Macapagal Boulevard near Seaside. I exerted more effort to get past these areas quickly.
Several hydration stations and walking-running after, I finished at 1:26. When I reached the MOA grounds, I was already relieved and knew that I can make it and finish my 10 km! My friends who ran 10 km, 21 km and 32 km also finished the race uninjured!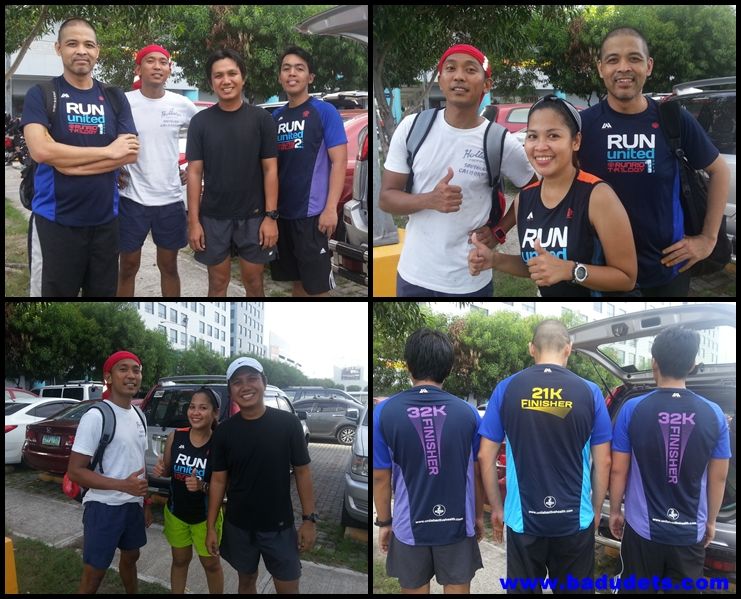 What I love about Run United races is that you can view the results with matching race analysis. Here's mine: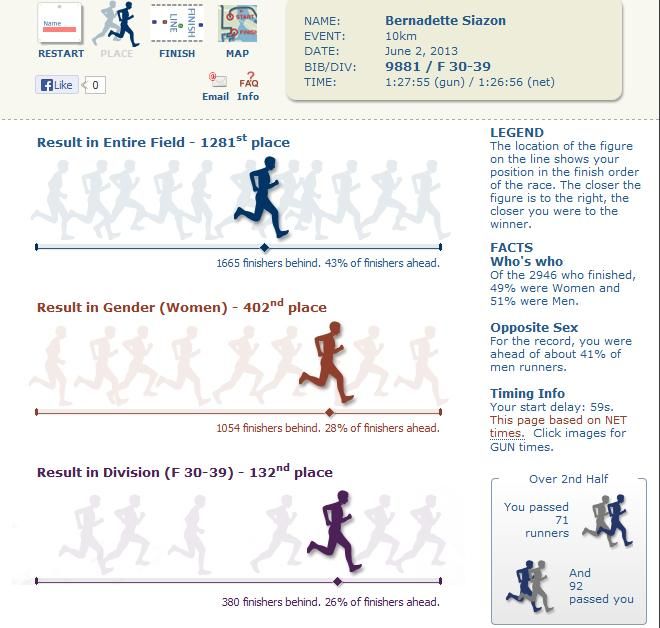 I'm just an average runner. But I'm still proud because I outdid myself from the first leg of Run United 2013.
Remarks:
As usual, races organized by Unilab Active Health and Run United is very organized. The location of baggage area, portalets, finisher kits claiming, Active Health Village and parking area is well-thought and well-planned.
Lots of parking spaces and it opened early.
The singlets and finisher shirts are made of good quality fabric.
Finishers kit includes a drawstring bag which is very useful, Asian Secrets body scrub, and medicine samples from Gatorade.
Plenty of activities at the Active Health Village but I'm too pooped to wander inside.
Hydration stations are spaced every 2.5 or 3 km. At the last hydration station, they ran out ice cubes so there's no cold Gatorade.
Trash bins are at the end of the hydration tables but some runners just throw the cups from where they were standing. I'm sure the race organizers cleaned them up after the race.
Banana peels thrown at the road is very dangerous. I hope runners will be more responsible in throwing their trash.
For the third leg of Run United 2013 series, I heard there will only be 21 km and 42 km, uh oh…. Time to train!