Mercato Centrale was launched last year and immediately made its name among foodies and non-foodies alike. It became a must-go to place in Bonifacio Global City every weekend since the food fare only happens during Saturdays and Sundays. Mercato Centrale boasts of having over 150 food stalls for visitors to feast on. Unfortunately, Taguig is too far from Caloocan or from Las Pinas and my weekends are dedicated in doing household chores and errands that's why even if I've been wanting to try some of the food being offered at Mercato, reading posts from other food bloggers sufficed.
But thanks to City Delivery, they have partnered with Mercato Centrale to bring the Mercato goodies right at my doorstep. I can just wake up late, do the laundry and clean the house and worry no more about my lunch because I can just order from any of Mercato Centrale's merchants and just enjoy it at the comforts of my dining table.
Luckily, I was invited to try the food delivery service and Bale Dutung's Pan de Bagnet and Lechon Tortilla. So last Saturday, I requested for my food to be sent at my in-laws' house in Las Pinas. At around 4 pm, I spotted the bright green and orange City Delivery motorcyle and their friendly rider at the gate. He handed me a 3 microwaveable containers, a still-cold Pepsi and a booklet in case I want to order in the future.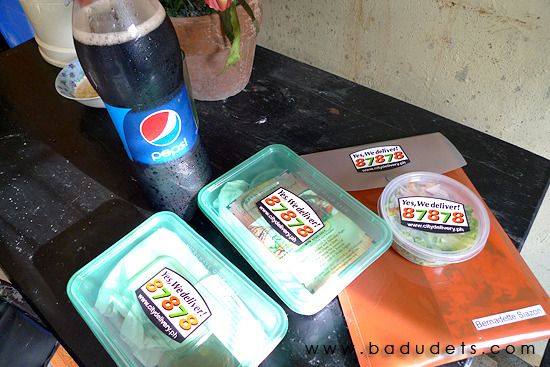 I love how everything was neatly and hygienically packed. Even the sauces came in separate containers that minimizes leaks. I hate it when I order from other fastfood chains and they deliver the food smothered with scotch tapes so as to avoid spillage. In this case, they used microwaveable containers that can also be reused by the customers unlike plastic or styro food packages.
So what's inside…
I have always liked bagnet but Chef Claude Tayug made me see bagnet as another gourmet meal. It came with ciabatta bread, a complementary salad known as Ilokano KBL (kamatis, bagoong, lasuna). The vinaigrette is also delish!
The Lechon Tortilla came with kimchi and oriental sauce but I enjoyed munching the lechon strips on its own. It's so good I don't need any sauce. But Jeff made his own mix from the accompanying sauces and ate it together with the salad.
As with any food delivery, I minimize my expectations with the food. I don't expect it to be really really hot and crunchy because it's really different when eating it at the restaurant/venue than having it delivered or to go. So it's normal for the bagnet not to have it's crunch or the tortilla and bread not to be warm, I appreciate the gesture to include a reheating instructions with my food.
Aside from Bale Dutung, there are also other merchants where you can order, complete list below:
Bale Dutung
Manang's Chicken
Chuck's Grubberie
Big Bob's Charcoal Grilled Burgers
Homemade Ravioli
Mochiko *
Merry Moo *
Spring by Ha Yuan
** Mochiko and Merry Moo – these are frozen desserts but they can be delivered to all their delivery areas.
How to order from City Delivery:
You can order online via their website: http://www.citydelivery.ph/
Or you can call their hotline at

8

7

8

7

8

.
Make sure that your orders reach a minimum of Php 500. Also prepare 10% delivery charge and delivery fee.
If you're ordering from Mercato Centrale merchants, place your orders 2 days in advance on weekdays. During Saturdays and Sundays, real-time ordering is between 9 am to 2 pm.
City Delivery delivers to the following areas:
Alabang

Greenhills

Paranaque

Las Pinas

Makati

Mandaluyong

Manila

Quezon City

Marikina

Muntinlupa

Pasig

The Fort

Ortigas

Pasay
For more updates about delivery, please like their Facebook page.