During our Hong Kong vacation last November, we booked the first 2 nights of our trip at a flat in Causeway Bay via Roomorama.com. I have $200 credits with them so it's the perfect time to use it. Basically, Roomorama has a collection of short-term rentals/apartments from around the globe, if you're looking for affordable accommodation and with complete amenities and with convenience like living in your own home, then booking through the site is for you.
First, I browsed for affordable rates of apartments/studios in Hong Kong island. Why HK island? Because we plan on hiking the Dragon's Back with our toddler so I chose the most convenient location. I zeroed in on a studio in Causeway Bay owned by Lee Shan Tse (hongkongkiwy), rate is for $70 per night. After several inquiries, I booked the studio and paid Roomorama using credit card. I received a confirmation email from Roomorama instantly, together with some instructions on when to give the Roomorama code to our host. Several days later, Lee Shan Tse also sent me an email for further instructions on how to reach her studio, how to get the keys and her studio rules. One hassle is that I have to get the keys at her cousin's store in Island Beverly, it's just one block away from the studio but it's too taxing to get it especially when carrying our luggage and our sleepy toddler.
Photos of different views of the studio are included in the site so I knew what to expect.
I wasn't able to take my own photos of the room except for the post-its because our things were all over the studio, hehe…
Two pillows and a blanket were provided. You can't use the closet and the cabinet for your things though, the closet is locked and the drawer is full of the owner's things.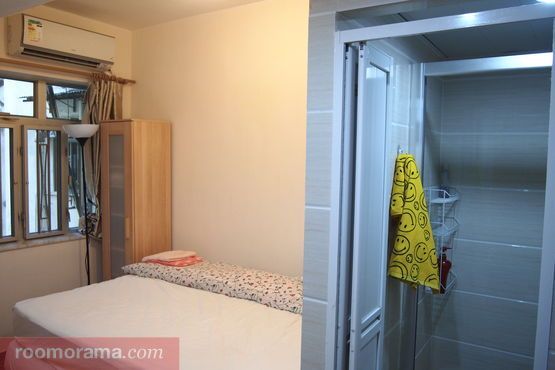 Shower area is very clean, bathroom tiles, toilet bowl and shower enclosure look like new.
I also love that there's a small sink and a counter near the bathroom, electrical outlets are strategically located near areas where you need it. I was able to wash Gwen's feeding bottles and sterilize them after at the counter. There's an ample stock of toilet paper at the cabinets above the sink, also some plates and kitchen utensils the guests can use. I used the can opener a lot!
Post-its can be found on the light switch, electric outlets and by the door for instructions, wifi username and password is also indicated, hooray!
Location-wise, it's very easy to find, just look for the Haagen Dasz shop, just beside it is the stairs going up to the 4th floor studio. Yup, no elevators, and going up the cemented stairs is not at all appealing. On some nights, there's water flowing on the stairs coming from leaking pipes. Going to and from the studio is a breeze because Causeway Bay MTR Exit D1 is just around the corner. Wellcome supermarket is a few walks along Jaffe St. I love it here because there's a yummy eggette store and Gong Cha in one corner, Sogo, World Trade Center, Missha, Watsons, Sasa, Forever 21, Times Square etc. are just a few hops away!
Overall, this studio is highly recommended because of its great location and cleanliness. And thanks to Roomorama because we got to discover, stay and live like an HK local, =). I'll definitely use the site again for future travels.