It's our Divisoria day earlier! Jeff tagged along because he needed to check out fabric stores in Juan Luna and Ilaya for his DIY project. After his errand, we decided to roam inside 168 Mall, I bought a few accessories while Jeff just checked out some cool China-made house gadgets like alarm systems, flashlights, speaker stands, and cooking utensils.
It's about lunch time so we headed to the new wing's food court which is located at the 5th Level. You know how I dislike dining in food courts, so whenever I'm in 168, I always eat at McDonald's, Jollibee, Chowking or Pizza Hut. But when I saw this new Japanese stall, Gyu Gohan, I decided to be more adventurous and try it with not so much expectations on the food.
Gyu Gohan claims that they only serve 100% US Certified Angus beef.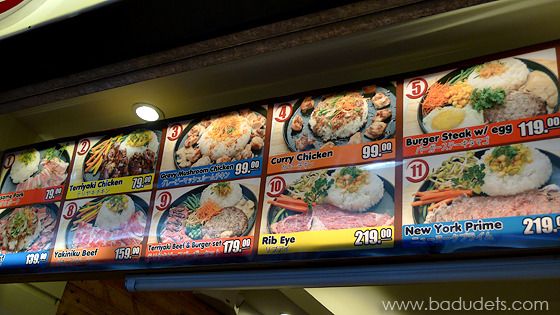 Their rice meals are very limited, but prices are pretty affordable. We had Yakiniku Beef and Beef Shortplate.
Yakiniku Beef is served with a bit of bean sprouts. The thin slices of beef were tender and cooked in yakiniku sauce that's why it's a bit sweet and salty which I like.
Beef Shortplate, on the other hand, has no special sauce so the beef slices are a bit bland. Jeff had to dip the beef strips in a soy-based sauce for added taste.
I like Gyu Gohan, it's giving Divisoria shoppers an affordable alternative to Pepper Lunch or Sizzling Pepper Steak.