It's the season of giving once again! Aside from the 13th month pay and Christmas bonuses, people are also looking forward to the gifts that they shall receive. As an employee, I also receive from my company a Christmas basket filled with grocery items, corporate gifts, chocolates  and other snacks. It is such a delight to go over the items. Sometimes, we swap items from other officemates who don't like a particular goods.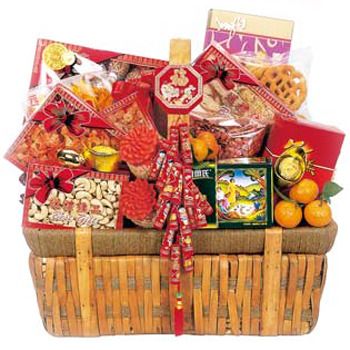 Every year, a committee will survey what we want to include in our baskets and they will take that survey into consideration. Here are some Christmas basket suggestions:
Christmas Ham – It's Christmas and it's never complete without a ham
Chocolates – lots of 'em
Spam – Turkey and 50% less sodium
Libby's Vienna Sausage
Delimondo Corned Beef
Gift Certificates – Starbucks and SM GCs
Goober Peanut Butter & Jelly sandwich spread
Pringles Sour Cream & Onion
Ruffles Cheddar & Sour Cream
Red Wine – for the toast for the new year
Belgian beer or imported dark beers – Jeff likes dark beers
Pasta
Spaghetti sauce
Queso de Bola
Fruitcake
Cookies
Salsa Dips
Nachos
Fruit cocktail mix
These are some of the ideas based on what I receive every year. How about you guys? What are the goodies inside your Christmas baskets or what would you like to receive?