The C-Lium Fibre Lose More, Live More campaign ended last September 20, 2012 with a press conference held at the Medicard Lifestyle Center. I will miss this establishment because this is where the C-Lium campaign started, and where our bond and support group started.
Mommy and lifestyle bloggers were all prepped up during the event. Thanks to SM Ladies Fashion for our clothes and Mithi Lacaba of Tipping Point Collective for the styling, you made us more confident in flaunting ourselves in front of the media people. That night was a culmination and a celebration of our month-long journey to health and wellness.
Aside from the Lose More, Live More online campaign, there's also a contest among brand ambassadors on who has the lowest BMI, lowest cholesterol and lowest glucose level at the end of the challenge.
Azrael Coladilla has the biggest drop in BMI. He also lost 10 lbs! Now, he can dance Oppa Gangnam Style without sweat.
Allan Enriquez, a runner and sports enthusiast has the lowest cholesterol level. It came as a surprise to him because his family has a history of heart problems.
I'm proud of the winner for the lowest glucose level, my mommy friend Mauie Flores! She's a diabetic and by taking C-Lium Fibre, she managed to lower down her sugar levels. Truly an inspiration and motivation to all diabetics out there.
10 winners were also chosen from the C-Lium Lose More, Live More online promo and they get to win Php 10,000 each! Win-win situation right? They now have a healthy lifestyle and they are also 10k richer!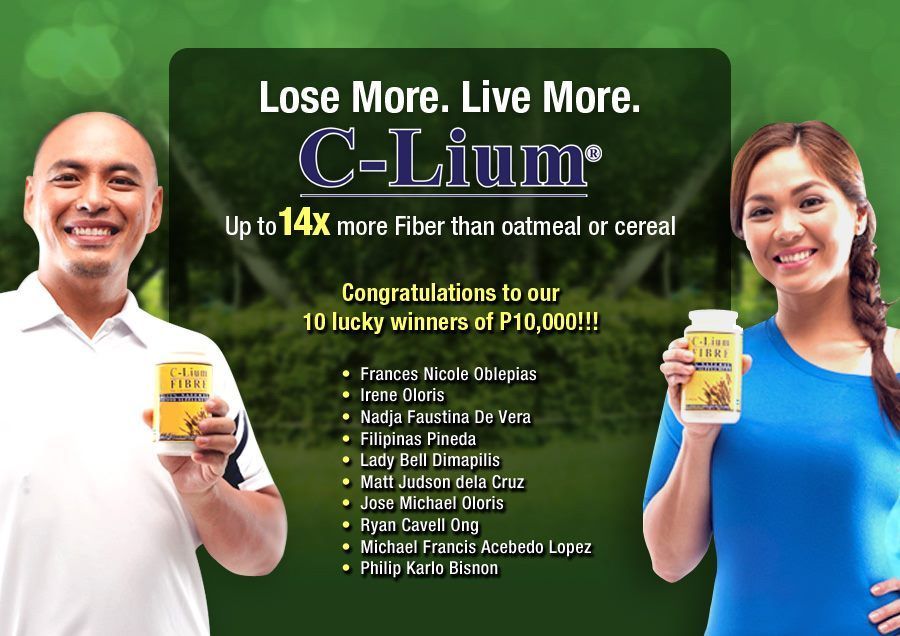 Mommy bloggers Nicquee Oblepias and Pehpot Pineda were included in the winners too!
And what about my personal journey, you ask? I was able to maintain my weight at 49 kgs. which is at normal limits and I lost half-inch off my waistline. C-Lium Fibre is perfect even for weight maintenance. After religiously taking 1 sachet of C-Lium Fibre every morning, I feel lighter and healthier. My secret in maintaining my weight is proper diet and exercise.
I know you have read and tried many diet and exercise tips. But another thing that's important is to have a wonderful SUPPORT GROUP. To encourage you, to inspire you, to push you to your limits, and to bring out the best in you.
Just keep at it, results are not seen overnight. We must all live a healthy lifestyle to live longer to enjoy all the great things in life.
Thank you for this wonderful experience!
Don't forget to like C-lium on FB (https://www.facebook.com/Clium) and follow on Twitter (https://twitter.com/cliumfibre).