Tightening your belt and drawing in your horns doesn't sound like a particularly attractive look and, as expressions for cutting back on your spending, they don't evoke images of sparkling eyes and silky skin. However, beauty can be less beastly on a budget if you follow these tips for creating your own homemade products.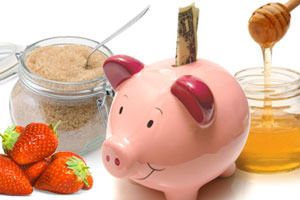 Body scrubs are easy to make with a combination of coarse sugar (brown or white is fine), olive oil, lavender oil and something that smells good such as a vanilla pod. Simply store the sugar and vanilla pod in an airtight container for a couple of weeks then remove the pod and add the equivalent amount of olive oil and a few drops of the lavender oil.
An avocado facial moisturiser is simplicity itself and prepared in seconds: blend an avocado with a teaspoon of honey until smooth and leave on your skin for about fifteen minutes. Rinse off for a silky soft finish.
Create your own facial at home and enjoy the relaxing effects of an antioxidant pumpkin face mask. Combine pulped pumpkin (seeds removed) with a whole egg and a teaspoon of honey and then add a tablespoon of cider vinegar if you have oily skin. Apply to face and leave for twenty minutes or until your skin feels refreshed. Rinse off.
Sometimes, simply allowing yourself 'time off' from the hectic way we live can put a spring in your step. Try doing nothing for twenty minutes, without any distractions or interruption. Put on comfortable clothes, draw the curtains and find some relaxing music to play quietly in the background. Close your eyes and try and drift away, focussing your mind on a warm light if possible. If you find your mind buzzing, rather than trying to ignore it, attempt to focus on what it is that's troubling you.
Eliminate worry from your life.
One of the most ageing habits many of us fall victim to is worry. It shows on your face in the form of frown lines on the forehead or those little pinched creases between our eyebrows and is often a result of over-thinking a problem without taking positive action. As part of your budget beauty regime, you could take a long hard look at the other areas in your life where you may be overspending and resolve to find ways to cut back on these costs too. You can find more useful money saving tips here that could help you cut back on food, energy, travel and other day-to-day costs – and even have fun into the bargain.