*This is my entry to Certified Foodies First Anniversary Giveaway contest.
My love affair with food started a long time ago. I'm not a picky eater when I was a child, I ate chicken feet, balut, fishballs, veggies, etc… My love for food carried on until now, whenever I read some raves of a particular food or resto, I make it a point to taste and experience them. Being a foodie is one expensive hobby I tell you, here in my blog, the food and restaurant reviews written here are unbiased because I wrote them as a paying customer.
So for the love of food, I'm sharing this photo of me feasting on Wingman Buffalo wings! I tried making it at home using McCormick mix, and tried the buffalo wings of other restos but I still go back to Wingman.
Hmmm, let me try the Buffalo Wings recipe from Certified Foodies.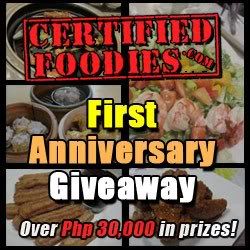 Join Certified Foodies' First Anniversary Giveway where you can win gift certificates, food gift packs, cash prizes and even a food trip date with the foodie siblings! To join, click on the banner above. And we'd like to thank their partners…
Partners:
Hot Fun Stuffs / Food and Fashion Blog / Baguio Girl / Mahlzeit / Ruthilicious / jared's little corner / Stay at Home Blessings / Shy Girls Own / Travel Monologue / Delight My Appetite / Vector Dad / Pinoy Holistic Healthcare / {cherry} everyday / Jefrox News / The Misis Chronicles
The Cookie Jar / Familia Foodie / NomNom Club / Let's Go Sago / Noob Foodie / Philippine Travel Promos / GEORYL: Welcome to Our World / Techie She / Wentot's Thoughts / LEVYousa / Living Life to the Fullest! / Food and Happy Things / Impulsive Buyer Goes Organic / YipeeMedia / Filipino Blog / Kizuna / The Life Encounters / My bric-a-brac / The Food Encounters / The Geek Side of blankPixels / A Woman Remembers / Adventuring Foodie / Nash Goes Chenelyn / Deej Speaks / Certified Pinoy Reviewer / Kwento Ni Toto / MAG of My Life / Delectable Ideas / Joy's Flair / Home Buddies / Mike Mamaril / Fedhz on the Go / Easy on Yz / Yz Little Steps / Samu't Sari Online Store / Your Filipino Virtual Assistants / Filipino Virtual Assistant / Ken Avenue / Shop Pinay / Day Dreaming Mommy