Zen Zest has been around for more than 10 years and I'm sure most of us are familiar with it. At the Zen Zest launch at Cafe 1771, we shared our favorite Zen Zest scents that we used from the past. I will be forever loyal to the powdery scent of their Talc Body Spray (reminiscing college days). Then they released their Eau de Toilette line, my mother bought me Thistle and Tangerine. I learned from the launch that Thistle is a combination of melon-pineapple-mint scent while Tangerine is a green melon scent. I always liked fruity scents but for those who like floral scents, try Magenta, Scarlet and Indigo.
At present, Zen Zest now has 18 irresistible scents from their Eau de Toilette line. Zen Zest EDT has 12% fragrance oil that will keep you smelling great for up to 6 hours. It is a proudly Pinoy made product but its ingredients are all imported: fragrance oil is from France; alcohol is from USA; and bottles are from Germany.
This April, 4 new scents are now available: Silver, Blue and Black for men; and Coral for women. I'm getting myself a Silver, although it's for men, it has a very clean just-got-out-of-the-shower scent.
Each 50 ml. bottle is only Php 200. That's pretty affordable and for someone like me who wants to wear a different scent depending on my mood, outfit, etc… I can just pick up a bottle of Zen Zest and spritz away!
It would be too hard for me to recommend a scent because we all have different preferences and body chemistry, you should try the EDTs at your nearest Zen Zest booths, they're everywhere. I went on a sniffing frenzy that afternoon, my nose didn't complain…
Thank you for the lovely afternoon, Ms. Nana Nadal and Ms. Zen Zest, Michelle Fontelera.
Aside from perfumes and body sprays, Zen Zest also has products for your home to smell good, like this fragrance diffuser in Happiness.
And now, time for a Zen Zest giveaway!!!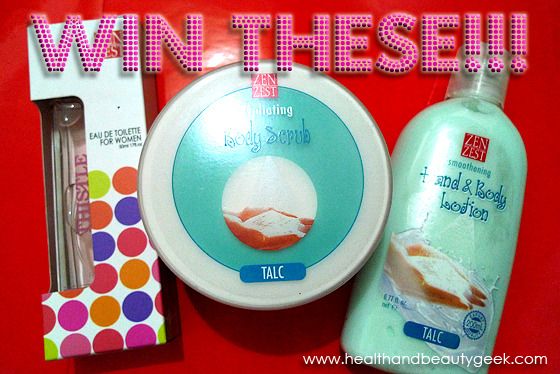 I'm giving away my long-time favorites from Zen Zest, Talc-scented Body Lotion and Body Scrub and Thistle Eau de Toilette.
And the winner is: