I still can't get over my Primer Bodega Sale loots from last week. It's a week-long sale but we went on the first day, Saturday, so we got first dibs on what's on sale, excited lang. The lines we're incredibly long, we fell in line around 9 am but the line was almost on the street. The sale opened at 11 am, and we got in at 1 pm! Bring your friends when there's a sale like this, iwas inip. And while falling in line, chikahan and picture taking muna.
The other photos show the scenes inside the sale, plenty of super discounted items but you have to be quick and be patient because of the crowd.
Let's go with the loots! My primary agenda is Fitflops, yun lang. I said one is enough but Php 1,800 for Fitflops is a great deal so I bought three :p.
Bought a Salomon XR Mission shoes that I've been lemming for since last year, original price is Php 6k, sale price is Php 3,000.
Other good deals are Tretorn and Native shoes selling for Php 500. Sanuk Yoga Matt slippers for only Php 300, original price is Php 1790.
There are also great bargains on clothes. Jeff bought from Mountain Hardwear, The North Face and Salomon. I bought one blouse from Ellesse. Check out the price tag: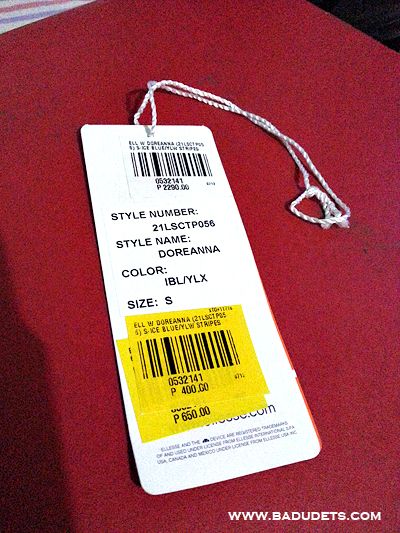 Originally priced at Php 2,290, slashed down to Php 600 and then to a whopping Php 400!
Being inside the bodega sale could immediately blow off your budget. I almost grabbed the white Delsey Luggage because it's super cheap, from Php 18k down to Php 2k. Good thing I came to my senses that I don't need a luggage, I still have my Samsonite I bought from previous Primer Sale.
Till next year!