My Big Fat Greek Kouzina at The Loop in ELJ Bldg. is where we are always headed come lunch time. We got tired of our usual rice+viand meals so having greek cuisine for lunch is something new to our taste buds. Jeff is fond of Persian cuisine, well, he loves shawarma/kebabs very much, that's why he got hooked with My Big Fat Greek Kouzina's Souvlaki.
Souvlaki is skewered grilled meat, just like shawarma. At Kouzina, they have grilled chicken, wagyu beef, and lamb meat options. These will then be wrapped in their very soft and tasty pita bread with tomatoes and yogurt sauce.
My staple order is a salad plate consisting of babaganush, tabouleh, hummus and Greek salad paired with pita bread.
The salad plate is a bit of everything Greek. The green one just below the pita bread is Tabouleh, chopped parsley, tomatoes, bulgur and olive oil. The parsley is refreshing to munch, I eat this last to cleanse my palate. The white one is hummus with a dash of chili powder, I guess you're familiar with this one. Hummus is made with chick peas, tachini, garlic, lemon and olive oil. I love hummus and Kouzina's hummus is the best one I've tried, very flavorful. Next to hummus is babaganush. My least fave on my salad plate, it's eggplant, tachini and olive oil. I just find it too mushy. The salad at the bottom is Greek Salad, it has chunks of tomatoes, cucumber, onions, capers, olives, feta cheese drizzled with olive oil. I just love how everything is topped with generous drops of olive oil. Makes everything tasty and very Greek.
They also have Moussaka, it's like lasagna but this one has potatoes, eggplant, ground beef in tomato sauce topped with bechamel sauce with parmesan cheese.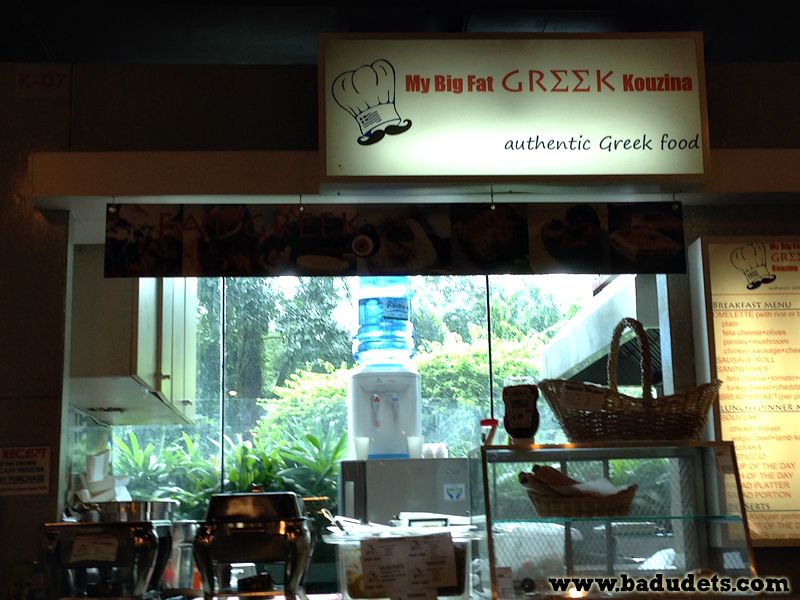 My Big Fat Greek Kouzina is located at the The Loop, ELJ Bldg. but they are also at the Salcedo Saturday Market and Legazpi Sunday Market.