A vacation to a different place is never complete without food. One friend noticed while looking at our Camiguin photos that most of our photos were taken inside a restaurant and we're eating. But of course! Camiguin has some good restaurants, some are owned by foreigners hence the Western menu.
Let the foodgasm begin:
Northern Lights Restaurant – Mambajao, Camiguin
We had our first lunch and last dinner in Camiguin at Northern Lights Restaurant. We don't mind if we eat here for lunch and dinner everyday, food is delicious and affordable. Most dishes are good for 2 people. We tried their Vegetable and Ham Fried Rice, Buttered Chicken and Lechon Kawali for lunch, and since we're so hungry, no one bothered to take photos.
For dinner, we had Chicken Kiev and Pork Tenderloin in White Sauce.
Luna Ristorante Italiano

– Mambajao, Camiguin
Luna Ristorante Italiano is an authentic Italian restaurant. We saw the Italian owners while dining there. Aside from the brick oven-baked pizza and homemade pasta, they also have an array of wines. Dining here is a bit expensive, our meal good for 2 persons costs us around Php 700.
The white sauce is so creamy, I love this pasta dish.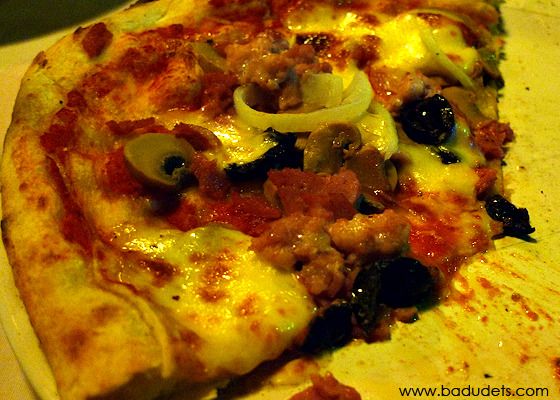 Our Italian resto escapade won't be complete without sampling their pizza. It's good alright, thin crust with lots of toppings.
Hibok-Hibok Restaurant – Mambajao, Camiguin
Hibok-Hibok Restaurant is inside Paras Beach Resort, which is just in front of Pabua's Cottage. But non-guests can also eat at the restaurant. Prices are reasonable and food is delicious.
Don't forget to order dessert and try their Leche Flan, it's so yummy we ordered three and still forgot to take a photo of it.
Vjandep Restaurant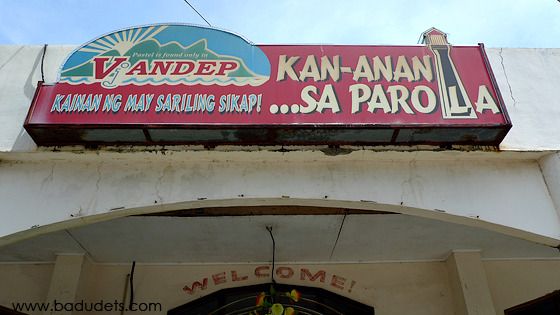 On our second day, we went to the town proper to look for an ATM. Mang Remy, our multicab driver, drove us here for our lunch. It's a modest restaurant, serves food ala-carinderia style wherein 5-6 cooked dishes are already displayed at the counter. The food is affordable, one meal only costs around Php 50-60.
Of course, Vjandep is famous because of their pastel. Never leave Camiguin without a box of it. You can place your order at the restaurant or at their nearby bakeshop. They have different flavors: mocha, chocolate, bavarian, durian, squash malunggay, cheese, etc. But nothing beats the original yema filling.
Kiping
On the way to Katibawasan Falls, I noticed a store that sells pancake-looking snacks, but it's crunchy. I asked what it's called, it's Kiping. Kiping is made from ground cassava chips. It's served with drizzles of chocolate syrup on top. Sweet crunchy snack!
Sea Urchin
While we're at White Island, 2 vendors of sea urchins approached us and asked if we wanted to try. One sea urchin is Php 50, but I wasn't feeling adventurous that time. Now, I regret not trying them out.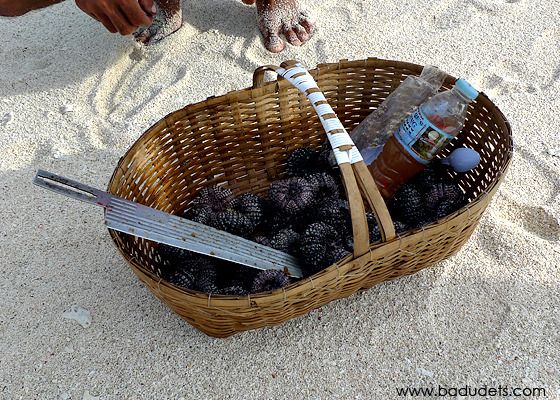 That ends our food escapade. More posts coming up about the attractions in Camiguin.