Oooops, I did it again with Berry Spears…
Watch out for Jacky Chunk's flying kick…
Out on a date with Blueberry More…
I'm sad, please Cheese Me Up…
Sorry I got carried away, J.Co Donuts names are so catchy :p
At last, I was able to grab a box of J.Co Donuts at their SM Mall of Asia branch. I have to line up for a good 20-30 minutes to get a box of the new donuts in town.
We ate some in the car because of too much excitement. Guess which flavors we ate first? Yep, anything choco.
First of all, whoever thought of the names of the donuts is one cool guy! I like the names of J.Co Donuts, they sound fun like Cheese Me Up, Avocado Dicaprio, Jacky Chunk, Berry Spears, etc. Although, sometimes, I can't relate or guess what's the flavor of the donuts just by hearing their names. And as pretty as their names, they all look good too! They're lovely to look at I don't wanna eat them.
As I sink my teeth into the cute edible thing, I find that the flavors are not overwhelming, not too sweet. Although, some flavors, I expect them to be more on the sweet side especially the chocolate ones.
My fave flavors: Coco Loco, Choconuttzy (chocnut fans!), Tiramisu and Why Nut. They have a variety of flavors and I'm pretty sure everybody will find their own picks.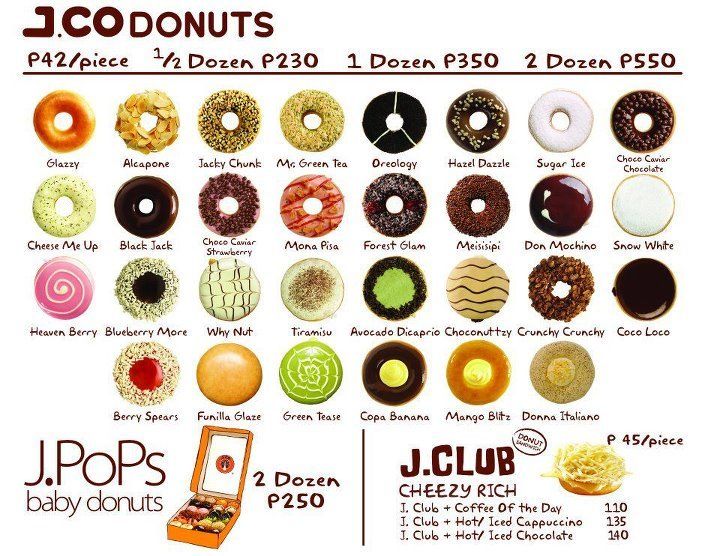 So what's your J.Co Donuts flavor?