I always pass by at Fino whenever I'm at Trinoma. But I don't enter the store because the storefront is quite intimidating (read: mukhang mamahalin) and I don't have plans to buy for a leather wallet or bag. But when Jeff asked where we can buy a card holder that's slim to carry all of his IDs and credit cards, I suggested that we look around at SM but he found nothing that suits his discriminating taste (yup, my husband is harder to please than me) I suddenly remembered Fino because of The Diplomatic Wife's post. So we trooped to Trinoma and finally set foot inside Fino for the first time, the smell of leather greeted us.
We asked for their card holders and Jeff zeroed in on this:
It's the perfect card holder for him because it's slim yet can hold plenty of cards. Inside were clear plastic pockets to place your cards/IDs and held together by that little round metal at the corner. So when you want to get something out of the holder, you must open it like you're holding playing cards.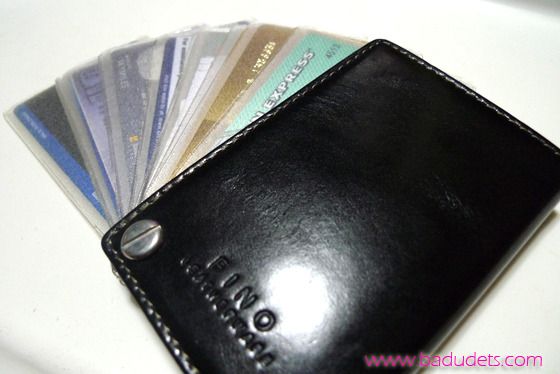 For a genuine leather, its price of Php 495 is really a steal! It comes with a lifetime warranty too. Honestly, I bought wallets from Girbaud, Riviera and even Seiko hoping that they use real leather but I only got to use them for a few months. So I'm planning to buy my first Fino wallet soon, it's a great investment.
Fino is a Filipino brand, let's support our own. They have plenty of leather products such as bags, wallets, coin purse, luggage tags, card holders, etc.