The cold months are here and while we enjoy this nippy weather, we also need to keep ourselves warm if we can no longer take the cool weather. If you're going abroad during their winter season or going to a place in the Northern part of the Philippines, it's best to come prepared with your winter gears.
Read more: Baguio-Sagada Sojourn
We went to Baguio and Sagada during the long Christmas break, and we brought some Uniqlo clothing with us. The coldest temperature we experienced was in Sagada, it went down to 13 C on our last night, brrrr…
Uniqlo Heattech Leggings
Top: Nirvana shirt from H&M
Inner leggings: Uniqlo Heattech in Black
Outer leggings: Giordano
Shoes: Salomon XR Mission
I brought my fleece jacket should if I get cold
Jeff knows more on packing light for the cold weather since he climbs mountains. He said that they key in dressing up is layering, so that you can remove the outer layers if you don't need it anymore.
At first, I was skeptical with Uniqlo's Heattech leggings if this will really work since it's so thin. But guess what, it really kept me warm. What I also like about it is it's so lightweight, light packers will love to have this in their essentials.
Uniqlo Kids Padded Parka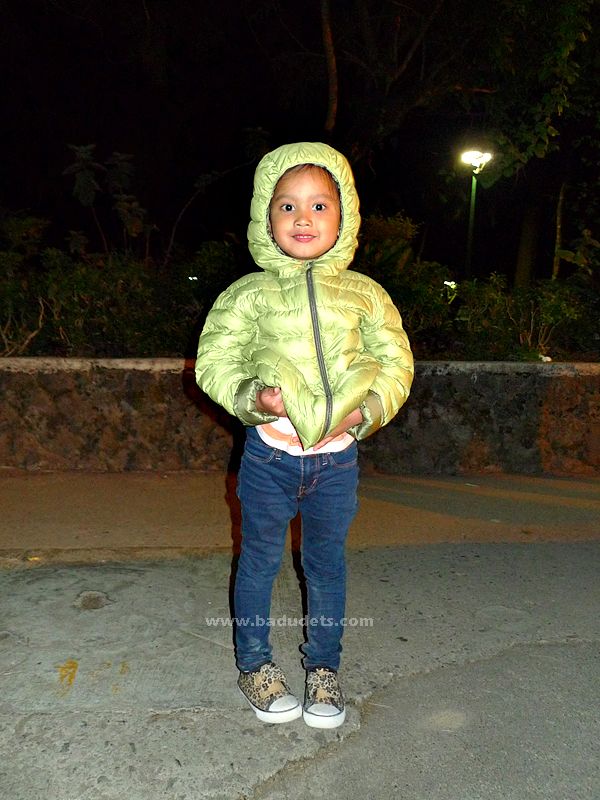 Top: Long-sleeved shirt from Gap
Jacket: Uniqlo
Jeans: H&M
Shoes: H&M
We bought this Uniqlo Light Padded Parka for only Php 790.
We didn't get worried that Gwen might not handle that kind of weather but thanks to Uniqlo for keeping us warm. We also have our red fleece jackets with us but I'm thinking of getting the colorful printed ones from Uniqlo as well, and they're on SALE!