2010 is finally here, year of the Metal Tiger. Aside from preparing sumptuous meals during New Year's eve, my mother is also busy preparing her lucky charms in time for the coming 2010. Right after Christmas, she visited Binondo to look for new lucky charms for the coming year. She also got some tips from what feng shui experts said on TV. I personally do not believe in these lucky charms because a person has the control of his/her own fate but it's my mother's happiness so I let her be.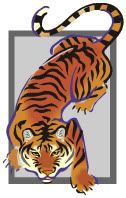 For those who are interested, here's what I gathered from the grapevine:
Lucky color for the year of the metal tiger is blue and light yellow. The metal tiger is said to lack the water element so the color blue is needed for balance. Light yellow symbolizes peace.
Lucky charms for 2010 are figurines of metal tigers or golden tigers with gourds (for good health) and with Chinese cabbage and golden coins (for wealth).
Taking care of aruwana fish can also bring goodluck.
However, there's a conflict between advices of other feng shui experts regarding displaying tiger figurines inside the house. It is not advisable to put in display any man-eating beast such as tigers or lions.
I'm sure with the coming Chinese New Year on February 14, 2010, there will be additional lucky charms suggestions. As my mother would say, it won't harm you if you'll follow or practice feng shui. The most important thing is do good and believe in good karma and hardwork. Start the year with a pure heart and imbibe optimism throughout the year!