Garnier Philippines together with Geiser Maclang invited me to the launch of Garnier Pure Active and to meet the Garnier Girl, Georgina Wilson. Pure Active is the latest skin care line from Garnier that addresses six skin problems: pimples, whiteheads, oiliness, enlarged pores, impurities and unevenness.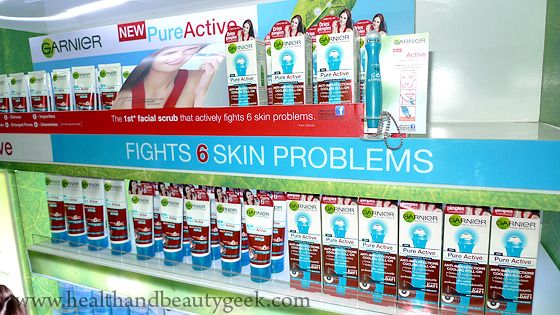 The two products launched are Garnier Pure Active Multi-Action Scrub and the Pimple Roll-On. Kudos to the Garnier Philippines team because as I've seen from the launch, they are very very excited and confident about their new product line. Even Garnier Philippines General Manager Mr. Arnaud is well adept about skin care.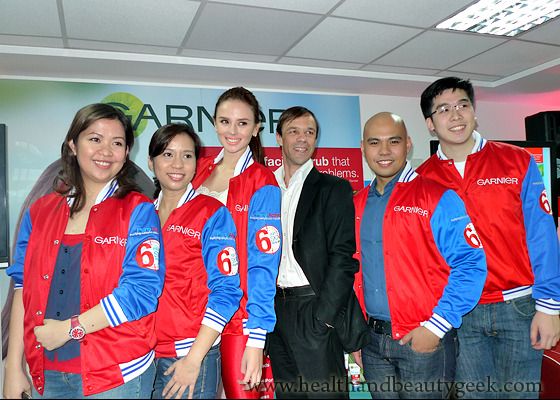 Packaging. The bright red and blue packaging of the product sets it apart from other skin care products packaging that are mostly pinks, whites and light-colored. The packaging is making an aggressive statement in itself that "I'm here to fight your skin problems" and it works.
Active Ingredients. Purifying Salicylic Acid with Maximum Concentration of 2% and Natural HerbaRepair are the two main ingredients. Salicylic Acid is an anti-bacterial ingredient with oil-control properties and pore clearing properties. Natural HerbaRepair is from blueberry extracts and helps repair and regenerate the skin to prevent scarring.
Georgina Wilson as the Garnier Girl
Georgina Wilson graced the event and gamely answered all the skin care questions from the bloggers. I asked her a question too:
What is the most simplest and cheapest/affordable skin care routine that you can advice to most people who are busy and don't have the time or money to invest on expensive skin care products and weekly facials, diamond peels, etc?
To my surprise, Georgina said that she doesn't undergo diamond peels because it makes her skin red. She stated that we should not use cheap products for our face. She advised that everyday skin care routine is more practical than having expensive weekly/monthly facials. What she follows is the cleanse-tone-moisturize routine.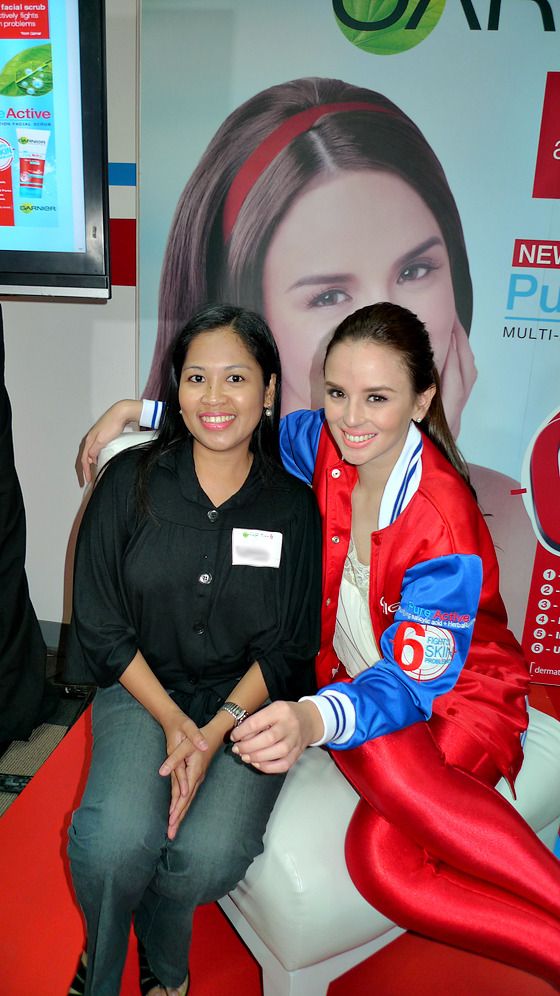 I also asked a few questions from Garnier Philippines:
With the Garnier Pure Active Multi-Action Scrub as cleanser and Pimple Roll-On for spot treatment, what can we use as moisturizer and night cream? Don't you have other products from this line?
Their Garnier Skin Naturals line really works so they don't need to produce another product line. Garnier Pure Active products can also be used in conjunction with Garnier Skin Naturals products. Garnier Light Cream for the day and Garnier Overnight Peeling Cream at night.
I've used a similar pimple treatment before with salicylic acid and my dermatologist said not to use those products because it only dries up the surface of the skin, so it doesn't really treat the pimples underneath. What makes the Garnier Pure Active Pimple Roll-On different?
Aside from Salicylic Acid, Garnier Pure Active Pimple Roll-On has Natural HerbaRepair, so it heals the pimples underneath and repairs the skin.
Got more skin care questions? You can #askGarnierGirl following them on Twitter (@GarnierPH) and by liking their Facebook page: https://www.facebook.com/takecaregarnier
Garnier Pure Active Multi-Action Scrub is Php 150 for the 100 ml. tube and Php 85 for the 50 ml. tube.
Garnier Pure Active Pimple Roll-On 15 ml. is Php 199.